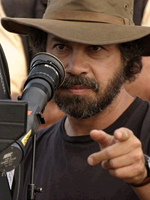 The press release, in part:
Academy Award® winner Edward Zwick has been selected to receive "The Kodak Award for Excellence in Filmmaking" at the 2008 ShowEast convention in Orlando, it was announced by Mitch Neuhauser, Co-Managing Director of the convention. Zwick will be on hand to receive this honor at the ShowEast Final Night Banquet and Award Ceremony on Thursday, October 16th at the Orlando World Center Marriott in Orlando, Florida.

"Edward Zwick is one of the most talented and respected multi-hyphenates working in the film industry today," noted Neuhauser. "Not only is he an accomplished filmmaker in American cinema, but he is also a veteran of television, responsible for some of the most groundbreaking shows of our generation, and he frequently juggles movies with television as he works. From a film standpoint, Edward Zwick's body of work is diverse, accomplished and acclaimed and to be able to honor him at ShowEast this year is truly a great privilege."
Zwick has been getting more and more press leading up to the fall release of "Defiance," which was announced last month as the closing night gala of the AFI Fest here in Los Angeles.