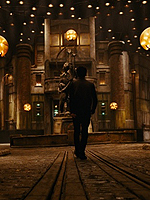 Two craft category posts in a row, but I just watched this "City of Ember" featurette and suddenly wondered if Martin Laing and former nominee Celia Bobak have a shot at a nomination from the art directors' branch.
There's plenty of talk from producer Tom Hanks and star Bill Murray about the massive sets constructed.  I remember when I was out in Belfast over the summer, the recent rush of film production was a pretty big deal to the community.
Laing, by the way, was a draugtsman on Tim Burton's "Batman."  His designs in "City of Ember" seem to be taking a definite cue from the work of Anton Furst.  He was also a part of the design team on "Titanic," though he didn't get to share in the film's Oscar nomination despite inclusion in the guild win that year.
Perennial favorite Ruth Myers is also in the mix, having designed the threads for the film.  Keep an eye out, that's all I'm saying.