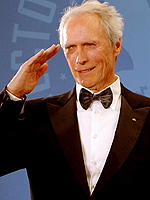 From The Envelope:
The 12th Annual Hollywood Awards will honor Clint Eastwood with the Hollywood Director of the Year Award.

The Oscar-winning director and producer will receive the award at the festival's Hollywood Awards Gala Ceremony in Beverly Hills on Oct. 27.

"Just when you think Clint Eastwood is about to take a breath, he shoots two films in a year and starts prepping a third, and barely thinks any of that is worth mentioning. He brings dignity, grace, humility, humor, quiet confidence and a sense of ease to a profession that is in sore need of all of those virtues," said screenwriter, director and Awards co-chair Paul Haggis in a statement.
Not that Haggis should be doing anything BUT kissing Eastwood's ass.  Good to hear it, though.  Probably the first step toward Oscar this year.