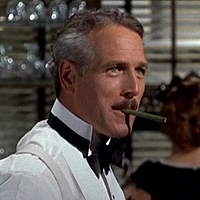 Expected or not, this week's news that screen legend Paul Newman has broken through to the other side is deeply depressing.  But as I noted over the weekend, it's best to take moments such as this as an opportunity to celebrate the man and his work.  So it is that this week's list reflects the very best Newman had to give us…according to me, of course.
Newman had an undeniable screen presence.  It wasn't the piercing blue eyes, nor the tall, dark and handsome figure he cut into the celluloid.  It was the attitude.  His character dripped with a sort of soulful aroma that couldn't quite be considered performance art so much as meditative experiences.  Right out of the gate with "The Silver Chalice" and all the way through to vocal work in "Cars," Newman's characters were more genuine than anything surrounding them.  It makes a list of ten nearly impossible to whittle down.
Any list is going to vary, though a few staples are bound to pop up consistently enough (I'd wager my top four fit that bill).  But it's ultimately a joy just to go back and revisit these portrayals, regardless of their ranked order.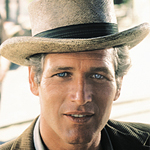 10. "Butch Cassidy and the Sundance Kid" (1969)
For some, an obvious top tier choice but it just scoots into my top 10.  It's unfair to give too much credit to either performer in this defining "buddy" western, however, because Newman and Robert Redford played off of each other so damn well.  Though Redford got the real zingers, Newman could crank out William Goldman's one-liners like he was born to do it: "I have vision, and the rest of the world wears bifocals," "My, we seem a little short on brotherly love around here," "What'd you say that for? You didn't have to say something like that," on and on.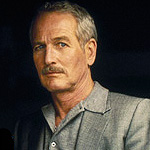 9. "The Color of Money" (1986)
There's plenty of debate regarding Newman's Oscar win for this sequel to 1961's "The Hustler."  Some say his Honorary Oscar the year prior was a wake-up call to those who didn't realize the legend was still without a statuette.  Others thought it was the perfect opportunity to reward two performances at once.  Whatever the case, I always felt his take on "Fast" Eddie Felson 25 years later to be a more nuanced, lived-in portrayal than the black-and-white showcase that helped make him a star.  It was the role that introduced Newman to the next, and ultimately final level of life and he wore it perfectly.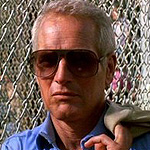 8. "Absence of Malice" (1981)
When Michael Gallagher waltzes into Megan Carter's newsroom for a big reveal in Sydney Pollack's "Absence of Malice," the poor woman knocked her coffee over, reacting almost to the man's presence more than her surprise.  And Newman maintained that presence throughout, a true hero role late in life after his career writhed about in destitution throughout the 1970s.  Any journalist or newsperson is bound to have a soft spot for the film and the role, but like most of his endeavors, Newman found a way to inject undeniable humanity into a character that could just as easily have remained a symbol throughout.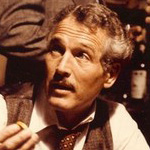 7. "The Sting" (1973)
Still a favorite film for many, Newman got the chance to play off of Redford once again with George Roy Hill calling the shots one more time, and the result was comedic brilliance.  "The Sting" was mostly revered for it's clever, genre-defining screenplay, but though Redford got most of the acting accolades that year, Newman was equally innovative with his take on the con-man trickster.  Much like "Butch Cassidy," however, Newman owed much of the finished product to the undeniable chemistry with his co-star, so much that it is difficult to envision the film led by two other stars.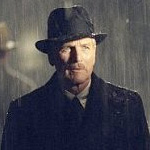 6. "Road to Perdition" (2002)
The soft-spoken sincerity of Newman's performance in this noir-ish graphic novel adaptation is spine-tingling and effective.  He didn't claim a lot of screen time, but the impact was enough to secure supporting acting honors throughout the awards season.  Many will remember the rain sequence, others the church basement confrontation.  But one element that sticks out in my mind is his stalking of his son, almost like the villain of a monster film, the camera behind him, wobbling with his fury.  He brings both fists down on top of a cowering Daniel Craig and proclaims, "I curse the day you were born!"  Absolute power.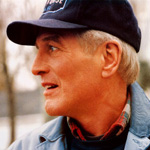 5. "Nobody's Fool" (1994)
It's one of the portrayals that seems to get lost in the shuffle, even as we discuss his life and times now, but Newman's take on Sully Sullivan in this Robert Benton gem is still one of my favorite examples.  The right mixture of buried childhood mischief and weathered fatherly warmth seemed to begin here as the definition of his later career.  He had perfectly awkward father/son chemistry with Dylan Walsh and equally honed give-and-take with Melanie Griffiths, whose intoxicating love for the old timer we bought, hook, line and sinker.  It's the kind of performance that might go unnoticed today.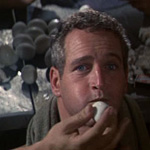 4. "Cool Hand Luke" (1967)
Moving into the truly defining stuff, no one can deny Luke his due.  From the first images of the character defiantly chopping parking meters off at the stem, we knew this would be a role emblematic, not only of the actor's gifts, but of the times as well.  It's difficult to deny it as Newman's most iconic performance, owing plenty to the revelatory creation of novelist Donn Pearce.  An Oscar nod was in the cards, but a tough loss to an equally relevant portrayal was perhaps a little easier to take than it might have been.  Still, to this day, it remains his most quotable and signature work.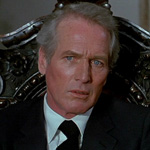 3. "The Verdict" (1982)
In many ways, Newman's work in this Sidney Lumet court room drama was so much more than the material.  It is one of two clear examples (the other being our #1 choice) of the actor elevating the character with a bravado and an essence that put the story in a secondary position.  It other ways, it was wonderfully symbolic of where Newman was in his career at the time.  Just as Frank Galvin was a washed-up ambulance chaser, Newman was a guy chasing the goods rather than having them handed to him on a platter like days of old, relegated to entertainment fare in the late 1970s.  Now, he was truly back.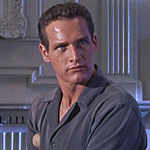 2. "Cat on a Hot Tin Roof" (1958)
Another iconic performance owed plenty to an iconic role, but Newman owned it like seemingly no other actor could.  It was the beginning of his tough-hearted heart throb "schtick," a schtick he would truly subvert and make into qualified art throughout his career (see next entry especially).  Any actor would revel at the opportunity to chew on the words of Tennessee Williams, but Newman was able to make them his own rather than a part of a specified wheelhouse.  He may have even surpassed Brando as the definitive on-screen character from the Williams portfolio.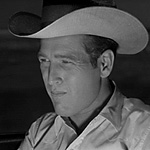 1. "Hud" (1963)
No surprise here, I'm sure, but Hud Bannon truly was "the man with the barbed wire soul," and Paul Newman is the one that gave it to him.  Like "The Verdict," Newman took a role that could have easily lay dormant on the page, spouted the dialogue — which tells the story well enough — and called it a day.  But of course that wasn't in his blood.  He got under the skin of Hud in a near-frightening way, offering a wretched man unforgiveable at every turn, yet understood all along.  Larry McMurtry gave the character life but Newman gave him substance, and the end result was perhaps the most underrated portrayal of his entire career.
Have your say.  Tell us your favorite Paul Newman performances in the comments section below!