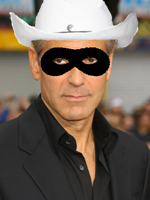 Okay, it's The Sun.  I know.  But a fun rumor nonetheless.  Here's the juicy aside, via Lumenick On Film:
George is very keen — he's been trying to do a movie with Johnny for a long time.  He thinks they'll make the perfect on-screen partnership.
Well, personally, I would find it difficult not to laugh hysterically if this came to pass.  I don't want to say I'd hate it, because let's face it, a Clooney/Depp team-up would be fun.  And a movie with their names above the title would make boatloads of money — BOATLOADS.  And maybe that's the ultimate edict of Disney, steering more and more toward the tent pole route like Warner Bros. up the street.
Anyway, here's Lumenick's opinion:
…it sounds like a truly terrible idea to me. The 75-year-old radio character's last iteration was in 1981, when Michael Horse played Tonto in one of that decade's worst movies, "The Legend of the Lone Ranger." The title role was the first and last film appearance of Klinton Spilsbury, who won Razzies for worst actor and worst newcomer. Let's just pray Hollywood is celebrating April 1 a few months early.
There's also a bit about the Russell Crowe dual "nottingham" casting that was reported over the weekend and, to my mind, remains a bizarre idea to say the least.