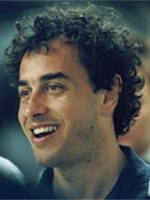 Viva Italia, is all I have to say. In the past 48 hours, I've been lucky enough to see the two films that have widely been heralded as marking a renaissance for the Italian film industry, a world cinema titan that had been lying dormant for a couple of years. No more.
One of them is Paolo Sorrentino's blistering, return-to-form political thriller "Il Divo," which I will discuss closer to its appearance at the upcoming London Film Festival. The other is Italy's submission for the Best Foreign Language Film race, "Gomorrah." Possible masterpieces, both of them — and as solid a case as any for abolishing the silly "one film per country" rule that so plagues this problematic Oscar category.
Walking out of London's Institute of Contemporary Arts after Sunday's UK premiere of "Gomorrah," which was followed by a lively Q&A with director Matteo Garrone, I couldn't shake the feeling that I might have just met one of next year's multiple Academy Award nominees.
Far-fetched, I know, but the film's achievement is that staggering and far-reaching. Under the foreign-language committee's new voting system, a nomination in that category should, by rights, be a slam-dunk, while Best Director and, particularly, Best Adapted Screenplay nominations are, to my mind, well within the realm of possibility. I will resist further gushing until I post a proper review in the next day or two, but for now, I want to share some of the thoughts Garrone offered at the Q&A.
A modest, thoroughly disarming presence, far younger in demeanor than his 40 years suggest, Garrone himself seems a little bewildered by the film he has made and the discussion it has wrought. For those who don't know, "Gomorrah" is a documentary-style examination of the Camorra crime syndicate that terrorizes Naples, based on the bestselling non-fiction expose by Roberto Saviano.
It has been glibly described in some circles as "the Italian 'City of God'," an understandable comparison given the film's sprawling structure and brutal violence, though its unadorned, humanist tone put me more in mind of an updated version of 1940's Italian neo-realism. (True enough, Garrone reveals in the Q&A that his primary cinematic touchstone was Roberto Rossellini's seminal post-WWII film "Paisan.")
In keeping with that genre's characteristic objectivity, Garrone is at pains to emphasize that his aim was not simply to make an anti-Mafia film. "This is not a movie against Camorra, it is about Camorra," he repeats at a number of intervals. "My job is simply to show the brutality of that world. The audience can judge for themselves. It is not necessary for me to comment if everyone can see what is going on. It's about human conflict first and foremost."
Was that tricky, given the more explicitly anti-Camorra stance of the source material? Garrone shrugs, unfazed. "Saviano's book is journalism, very good journalism. But I'm not a journalist. He's concerned with uncovering information, denouncing names. I wanted to make a film about people, society, atmosphere. So we chose the five most interesting, universal stories from the book and made it about the characters." He pauses, carefully choosing his words. "In film, expression is more important than information."
He goes on to explain the arduous six months he and his crew spent in Naples researching and casting the film, interviewing any number of involved and/or affected residents, and letting their stories bleed into the final screenplay. "I was only scared of the subject when we were writing the first draft in Rome," he confesses. "Once we started talking to people, that life became so much more understandable. It's a big grey zone, it's so easy to make mistakes. People have asked me why I don't deal with the crime bosses so much, but I wanted to show the people at the bottom, how easily they can get involved."
To this end, in a number of self-reflexive scenes, the film references flashier, more familiar filmic depictions of Mafia life, Brian De Palma's "Scarface" among them. "I wanted to move away from the glamor of the Mafia movie, but at the same time, that's what draws these kids in. They want to be Tony Montana. It's not cinema that takes inspiration from reality, it's reality that takes inspiration from cinema."
Is this a slightly contradictory statement from a filmmaker whose primary goal appears to be realism? Garrone laughs, admitting his English expression can get a bit tangled. "I've tried to show things as they are, more or less. But there's always a contradiction when art represents reality. My film isn't real, but it's true. The producer wanted more hope in the ending. I told him, 'I'm sorry, but I don't see any.'" A consultation with his translator leads to this substantiation, paraphrasing Pirandello: "Reality doesn't have to be truthful. Art doesn't have that luxury."
If this sounds like a rather bleak outlook, he isn't afraid to express a sliver of idealism. "I hope young people get to see the film, and maybe see the reality and consequences of that kind of life. I don't know. I hope." So he does subscribe to the hoary maxim of art bringing about social change? He shakes his head emphatically. "No, that's the job of politicians."
Ultimately, however, Garrone couldn't be more pleased by the attention his film is garnering domestically and abroad, even if he can't help noting a delicious irony. When asked about the film's reception in Naples, he responds cheerfully, "Well, I'm told the day it was released, the streets of Naples were filled with pirate DVDs of the movie. Everywhere."
He smiles ruefully. "So at least the Camorra is making a lot of money out of it."