You know, I've been looking for a reason to dump CNN lately from my regular cable news viewing.  I blame the election coverage, obviously, for finally bringing me to a point where Wolf Blitzer's drawn-out delivery damn near gives me a headache, or the amount of talking heads in one segment or the next seems to never be enough for show producers.  But tonight's debate sealed the deal.
When I'm watching two guys duking it out over policy in an election year, I really don't give a fuck how the pundits are scoring the proceedings moment-by-moment.  And as a news-delivery organization, CNN should understand the line this crosses, where viewers constantly feel like they should be darting their eyes back and forth to take an arbitrary score, rather than making up their own minds based on the discussion.
If you don't have an HDTV, you didn't have to put up with this.  But here's a sample of what I'm talking about: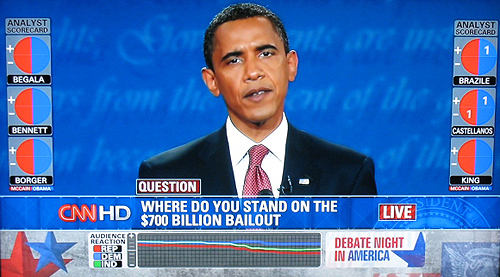 The little audience reaction meter that CNN loves so much is also a heinous distraction, never indicative of anything and simply a graphical manipulation that amounts to nothing.  It really got to me tonight.  Factoids are one thing, but this is intrusive, and reprehensible.
Eventually I had to switch over to CBS, which had a much cleaner display (and no, Obama isn't blowing Joim Lehrer a kiss):
The fanciest the network got, beyond the classy chyron, was that old standby, split-screen: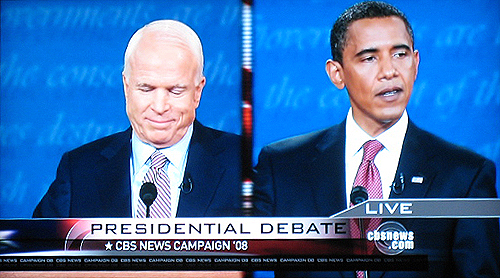 I respect that CNN is pushing the reach of broadcast media with these bells and whistles.  The "Go Live" feature on DISH Network, for instance, is a nice step toward integrating broadcast and online media.  And they are at the forefront of a lot of the progress the medium has made in recent years.  But someone with a journalistic mind has to step in from time to time and raise these questions.  If not, they'll simply be at the forefront of broadcast's inevitable march toward an entertainment commodity first.