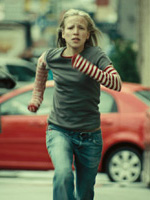 This morning brings three more entries in the Best Foreign Language Film race. KIcking things off, Russia has selected Anna Melikyan's "The Mermaid," which won the Directing Award in the World Cinema section at Sundance, before going on to scoop a FIPRESCI prize at the Berlin fest.
A modern-day fairytale about a teenage girl's coming of age in Moscow, the film has inspired comparisons to "Amelie" from a number of critics. Variety praises it for its "abundant charm," "bravura visuals" and "a winning personality all its own." I've been intrigued by this one for a while.
Meanwhile, Argentina has also gone with a success from the festival circuit: Pablo Trapero's "Lion's Den," a story of a young woman's imprisonment for accidental murder. The film played in competition at Cannes this year to enthusiastic reviews, including this rave from Andrew O'Hehir:
"Lion's Den" is marvelously shot and acted, constantly surprising, and completely focused on Julia's struggle to get from one moment, or one day, to the next one rather than through some formulaic story arc … Martina Gusman (Trapero's wife in real life) gives a vivid, ferocious, almost animalistic performance.
Finally, Slovenia's selection is "Rooster's Breakfast," a gentle study of small-town life that has been wildly popular in its home country but has virtually no international profile to speak of.
Once again, feel free to share any further information or perspective on these (or other) foreign-language entries in the comments below.