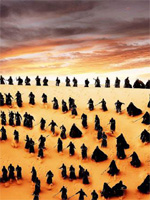 Heading the latest round-up of Best Foreign Language Film entries, China has taken the unusual step of submitting a documentary in the race. As you may gather from the title, "Dream Weaver: Beijing 2008" is a study of the country's seven years of preparation for last month's Olympic Games, and was produced by a state-owned company.
It's certainly a distinctive and topical selection, though I really can't imagine it making the lineup. "Mei Lanfang," Chen Kaige's lush, Ziyi Zhang-starring biopic of the eponymous opera star, would have been a more expected choice, though sources reveal the film isn't finished yet.
Staying in that part of the world, Hong Kong has submitted "Painted Skin," a fantasy epic from Gordon Chan centred on the love affair between a scholar and a beautiful, man-eating demoness. Featuring production design from Oscar nominee Chung Man Yee ("Curse of the Golden Flower"), it all sounds rather wild and wonderful — though probably a bit too "out there" for the voters.
Potentially more in their comfort zone is the Czech Republic's entry, "The Karamazovs." A portrait of a travelling Czech theatre troupe staging a production of the titular Dostoyevsky novel in a Polish steelworks, it was described by Variety as an "excellent but extremely highbrow pic that should enrapture festival-goers." (The review also makes structural comparisons to Almodovar's "Bad Education.") The film will screen at next month's London Film Festival.
Finally, Bosnia-Herzegovina, the nation that scored an upset win in 2002 with "No Man's Land," has gone with "Snow," a female-oriented debut film about rural village life in the wake of the Bosnian genocide. The film bowed at Cannes to respectable reviews, and went on to take the Critics' Week Grand Prize.