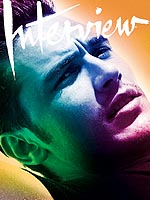 I've been meaning to cancel my subscription to Interview Magazine for months upon months, probably years at this point.  I always forget until I get a new issue, then it gets tossed onto a stack on the shelf and I forget again.  But there's always an interesting one-on-one and the closer we get the the awards season each year, the more pertinent the interviews become.
Case in point, this month's issue features the cover story: "James Franco by Gus Van Sant."  It's a solid Q&A between the star and director of "Milk" respectively, but I particularly liked the lede:
Seven years ago he played James Dean in a television biopic, tinting his hair and squinting his eyes to Rebel Without a Cause-like perfection.  Ever since, the temptation has been to peg him as a good-looking young man felled by the moody blues.  While it's a fact of life that no one can ever really know what lies beneath the surface of another, the Internet can help narrow the field of possibilities.  Lo and behold, Generalissimo James Edward Franco: a merry prankster, and the latest on-screen love interest of Sean Penn.
The Oscar campaign begins.
There are also interviews with Oliver Stone and Anna Paquin, by the way.  More at Interview's website.