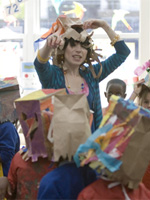 Brad Brevet, over at Rope of Silicon, likes "Happy-Go-Lucky." A lot. And like me, he's a bit perturbed by some of the hostile criticism that has been lobbed at the film, and its protagonist Poppy in particular — such as Jeff Wells' wildly off-base (to my mind) accusation that the film is guilty of "emotional fascism."
In response to such critiques, Brevet has written a smart, thoughtful defense of the film. (I praise it not only because he quotes extensively from my own review, though that's an obvious point in its favour. Ha ha.) The core of his argument is that the film is less an isolated character study than it is a study of its own audience, and how they respond to character:
Happy-Go-Lucky was hardly about any of the characters in the film as much as it was about the audience watching the film. Taking that into consideration, film critics are perhaps the absolute best audience for this film. Critics of any sort can be cynical and jaded creatures and when confronted with someone that is altogether happy despite not having an abundant amount of wealth or status (i.e. Hollywood reasons to be happy) it annoys the cynical sort.

I say this in general terms and without direction of blame or accusation, but it is what comes out of judging art as a profession. Why else would the most trying times for the film's central character be met with the most glowing responses? As Lodge said, the character hasn't changed … As much as Poppy may want to change the folks she encounters inside the film she ultimately ends up changing the people watching.
After initially being uncertain of what Leigh was trying to communicate with the film (as Brevet picks up in my review), I've got more of a handle on it over the months — for me at least, it's a story about the impossibility, even the inadvisability, of coerced personal change. What I think critics such as Wells assume too easily is that Leigh is wholeheartedly endorsing the world view of his protagonist.
What makes "Happy-Go-Lucky" special is that it generates this level of discussion — I've been engaged in more arguments, both in person and online, about this film than any other this year. It's certainly grown on me over the months (though Brevet's filleting of my review makes it sound rather harsher than it was), and I stand right with Brevet in advocating its Oscar-worthiness across the board. He thinks at least five nominations are in order, by the way.