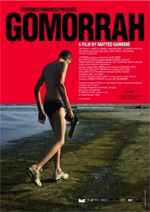 Well, as speculated a few hours ago, Italy has announced their submission for Best Foreign Language Film. And, to the surprise of precisely nobody, they have gone with Matteo Garrone's "Gomorrah" — the sprawling, breathlessly acclaimed portrait of Naples mafia life that was arguably the breakout hit of May's Cannes festival. (It received the runner-up prize.)
It's almost impossible to declare frontrunners in this category, given the foreign film committee's wilful voting habits. Still, it's safe to say that "Gomorrah" is the most anticipated and discussed contender to officially enter the race so far.
Whether it will prove too bleak and violent for the blue-hair voters is difficult to predict — they acknowledged the edgy brilliance of "Amores Perros" in 2001, but since then, they've been unable to stomach the likes of "City of God" or last year's "4 Months, 3 Weeks, 2 Days."
Based on the unanimously good word for the film, I've long been predicting that "Gomorrah" could even score breakout noms in the Best Director and Adapted Screenplay categories (a la "City of God"), but that was when I imagined Italy picking the more parochial "Il Divo" as their foreign-language entry. As it is, they've chosen the title with more crossover potential — it'll be interesting to see what momentum Garrone's film can build from its New York Film Festival screening.
For my part, I'm seeing the film at its UK premiere this Sunday — hopefully to be followed by a Q&A with Garrone. I can't wait.