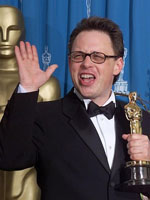 Wow. This is a left-field choice to say the least, but it seems "Dreamgirls" director and producer Bill Condon and Laurence Mark have been tapped to produce this year's Oscar telecast. Mark will be the producer, Condon the executive producer. The Hollywood Reporter has the scoop.
Despite the negative B.S. that was flying around my opinion of "Dreamgirls" two years ago (things get perpetuated too far in a business governed by publicity), I genuinely like Condon and have a friendly chat every time I see him. He's a true Oscar geek like the rest of us, a bright and creative guy who will probably do wonders for some of the telecast's typically boring sequences (music performances are at the top of that list). And Laurence Mark is no slouch when it comes to putting stuff like this together.
Good things. Here's an excerpt from Gregg Kilday's story (which briefly mentions Condon's upcoming Richard Pryor movie):
The "Dreamgirls" team of producer Laurence Mark and writer-director Bill Condon have been tapped to produce the 81st Annual Academy Awards telecast. Mark will serve as producer with Condon on board as exec producer; it's the first time either has produced the Oscar show.

Announcing their selection Wednesday, Academy president Sid Ganis said, "Larry and Bill are fresh thinkers who will bring a unique perspective to the Oscar show. That fact, joined with their enormous collective talent and enthusiasm, will serve the 81st awards proceedings perfectly."…

"What a thrill to produce the Oscar show," Mark said. "I'm excited about this opportunity and look forward to the challenge of a live television show that celebrates the very best in film."

"The Oscars are the ultimate recognition of excellent work in movies, and I'm so pleased to be part of putting the show together," Condon said.
It'll be interesting to see if the duo will be able to turn things around for a show that is consistently losing viewers. I'm sure they see it as a challenge, but a welcome one regardless. Good luck, guys.