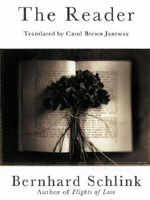 The news that Scott Rudin and Harvey Weinstein are in a tug-of-war over the release date of "The Reader" isn't really news at all.  We were talking about this over a month ago, back when it seemed Rudin had won the debate.  But the pieces slowly fell into place and a 2008 release became a reality, so here we are.
The problem: the film isn't finished yet.  That's all well and good.  Neither is "Revolutionary Road" or, last I checked, "Milk."  The issue with "The Reader" is that it likely won't be finished by the time Weinstein wants to release the film, and that is where the efforts of those involved could go to waste at the whims of an awards-hungry big-wig desperate for a major Oscar contender for the first time in four – count 'em – four years.
What's worse — or at least could be perceived as worse — is the notion floating out there that Weinstein is banking on good will for "Reader" producers Anthony Minghella and Sydney Pollack.  Both filmmakers passed away earlier this year.  Steven Zeitchik aludes to this in his Hollywood Reporter piece.
Zeitchik has a lot of smoke but not much fire, though, since both Weinstein and Rudin declined commen.  And he's likely peddling anonymous quotes from publicists on one side or the other — sentiments we've all heard, and probably from the same publicists.
My guess, at the end of the day (and as one of Zeitchik's sources concludes), is that Weinstein wins the battle.  He's proven recently enough that he'll push something down the collective AMPAS throat if he doesn't have the goods (Sienna Miller in "Factory Girl.")  It's that insatiable awards appetite.  The tragedy this time around isn't that he won't have the quality, though, but, more likely, that he'll have an incomplete product that could have been better serviced.  We'll see how it turns out, but here's a look at Zeitchik's collection of a month-and-a-half's worth of rumors:
Weinstein is pushing for a December release for the movie, which director Stephen Daldry is working on in post. The romance set in postwar Germany and based on Bernhard Schlink's novel already has buzz from strong test screenings, though there are post elements left to be completed…

Rudin, however, has been lobbying hard for a 2009 release. The producer already has two Oscar candidates — "Revolutionary Road," with Leonardo DiCaprio and Winslet as a married couple in the 1950s, at Paramount Vantage, and the Broadway transfer "Doubt," toplining Meryl Streep and Philip Seymour Hoffman, at Miramax — and a third would mean he is vying heavily against himself.

The producer faced a similar scenario last year when his "No Country for Old Men" and "There Will Be Blood" competed against each other for Oscar kudos.

The fact that Winslet stars in both "Revolutionary Road" and "The Reader" would mean the actress too could wind up competing against herself.
The rest.