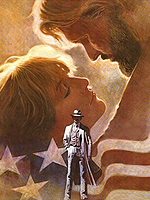 Every week, much to the delight of my children, several packages arrive at my door containing DVDs, movies that are not yet released in the home market that I am expected to review. Tough work, ain't it? Seriously, I would do what I do just for the free movies.
That said, I have followed the history of DVD very closely and the manner in which several studios double dip with their releases. Most recently we have "The Godfather Restoration," which is superb, but represents the third such DVD release for these films. The first came in 2001, The Godfather Trilogy, and then each film was released on its own so folks not wanting Part III could pass (sorry Kris).
Another film that went through many incarnations before the Ultimate Collector's Edition was "Blade Runner," though last year's final release should be the final release. Francis Ford Coppola's "Apocalypse Now" went through several variations before coming to us in the ultimate edition, minus, of course, "Hearts of Darkness," the splendid doc about the film's making. What might have been cool is to see some footage of Harvey Keitel as Willard (if it exists).
But it all leads me to wonder which films out there deserve a double disc/special edition release.
Certainly Michael Cimino's "Heaven's Gate" would be one to see as the director originally intended, no matter how yawn-inducing it might have been.  The same is true of Terence Malick's "The Thin Red Line," which was rumored to have a five-hour cut floating around somewhere. Rather than give us yet another version of "The New World," which I quite liked, why not go for this misunderstood war epic?
Where, where, where,  is "The African Queen?" How is that a great classic like this sits unreleased in North America?  I spoke not long ago of "Ironweed," which can be picked up in Europe but not here…ouch! And why is John Huston's masterpiece "The Man Who Would Be King" available in a bare bones only edition?
Last year I adored "The Assassination of Jesse James by the Coward Robert Ford" and looked forward to the DVD release and any number of special features that might have been included. The ultimate release had next to nothing to offer, but I'm told a special editiomn is in the works.
How about "There Will Be Blood," the best film of last year, which got a special edition — sort of — but could sure use another. Reaching back, "Sorcerer" could use a make-over on DVD, as could Milos Forman's "Hair" and "Pennies from Heaven," each recently mentioned in a column here at In Contention.  Both would have incredible commentaries from the cast and remaining directors.
You must have yours, so tell us: Which films deserve the special treatment on DVD.