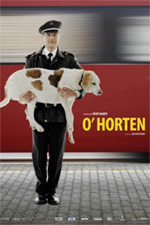 Leading a quick roundup of some recent entries in the Best Foreign Language Film race, Norway has unsuprisingly selected Bent Hamer's absurdist comedy "O' Horten" as their pony. The film garnered a number of followers at Cannes and Telluride, with Variety declaring it a "warm and gently humorous divertissement."
I was a big fan of Hamer's previous films "Kitchen Stories" and "Factotum," the latter a sadly underexposed Charles Bukowski adaptation that featured a career-best performance from Matt Dillon. I'm looking forward to "O' Horten"; I wouldn't be surprised to see it in the final shortlist, at least.
Other titles joining the mix (that we haven't already reported) include:
"Taare Zameen Par," from India, starring and directed by Aamir Khan, a 2001 nominee for "Lagaan";
"Last Stop 174," from Brazil, a Toronto entry from Bruno Barreto, a 1997 nominee for the brilliant "Four Days in September";
"The Tour," from Serbia;
"No One's Son," from Croatia;
"The Friend," from Switzerland;
"Salt of This Sea," from Palestine;
"White Night Wedding," from Iceland;
"Tricks," from Poland;
And some less recent entries that, for one reason or another, I failed to mention earlier:
"My Magic;" from Singapore;
"The Rest is Silence," from Romania;
"Iska's Journey;" from Hungary;
"Ploning;" from The Philippines.
It's getting difficult to keep up, so if we've missed anything here or in previous posts, please let us know in the comments. Also, I know we have a very cosmopolitan readership, so any tips, recommendations or perspectives on the entries would be most welcome.