It looks like David Poland beat The Envelope to the punch again this year with his collective of Oscar prognosticators, the Gurus o' Gold.  I'm back on the team again this year after missing the boat last time around.
Poland has done away with the Gurus 2.0 experiment, which was an interesting look at what the peripheral awards sites were thinking.  I guess he decided it better to whittle it down to a refined list of guessers, while The Envelope's thing is having casting a huge net.  There are pros and cons of each approach, but at this point in the year, we're all guessing anyway.
I was surprised to see "Slumdog Millionaire" make it into the Best Picture predicted five with so much authority.  And despite my recent change of tack on the major category hopes of "The Dark Knight," I certainly wasn't anticipating a tie for #6.
(The Gurus' top 10 predicted Best Picture hopefuls with commentary after the jump.)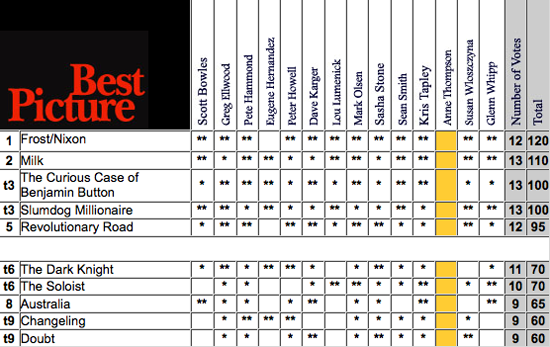 And Poland's mash-up of the Toronto films, with commentary.  More at Movie City News, with acting category rankings (and surprises) as well.
Points of interest:
• I LOVE how Peter Howell has predicted Christian Bale in the supporting actor category for "The Dark Knight."  Not gonna happen, obviously, but it's a ballsy, interesting pick.  But he IS picking Ledger in the lead category, and we all know where that started.
• To my surprise, the Gurus are in agreement with me on the Clint Eastwood lead actor nomination with little else for the film at this point.
• I'm surprised Debra Winger even made the cut in supporting actress.  Her five or ten minutes amount to nothing beyond the film's most embarassing scene, while the real gem, Rosemarie Dewitt made the top 5 cut (not so surprising there, though).
• I think that Eugene Hernandez will get some company before long with the Michelle Williams pick in Best Actress.
• The "pretty boys" — DiCaprio and Pitt — doomed to the sidelines despite considerable talent are just that, on the sidelines, in the Best Actor category.
Thoughts on the Gurus?