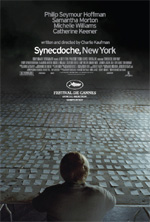 Everyone has a favourite Oscar category, and Best Original Screenplay is mine. It's partly because I'm a screenwriter myself, so I feel a little more invested in the outcome. My evaluation of the category often comes down to the question: "Which screenplay do I most wish I'd written first?"
More importantly, however, it's the category where the Academy takes its greatest artistic risks. With the Best Picture category generally weighted towards adaptations, they often use Best Original Screenplay as a way to acknowledge the edgier, more adventurous work that voters can see the greatness of, but don't yet have the guts to honour with their biggest prize. Hell, once in a blue moon they even give it to (gasp) a foreign-language film.
It's this convenient ghettoising mentality that ensures the likes of "Citizen Kane," "The Red Balloon," "Chinatown," "Pulp Fiction," "Talk to Her" and "Eternal Sunshine of the Spotless Mind" don't go empty-handed. Sure, it sucks that they couldn't win more. And, being the Academy, they make more than their share of screw-ups. (Let's try and forget that, in 1960, "Pillow Talk" beat — wait for it — "Wild Strawberries," "North by Northwest" and "The 400 Blows," shall we?) But they occasionally hit on an otherwise-snubbed masterpiece, and for that we should be grateful.
This year's Best Picture slate appears to be heavy on prestige adaptations, allowing for a more idiosyncratic ragbag of contenders on the Original Screenplay front, mixing familiar Academy-anointed favourites with some exciting new voices.
There is, of course, a chance this could be a year when the paths of the Best Picture and Best Original Screenplay races converge, principally in the shape of "Milk" scribe Dustin Lance Black. Already high hopes for "Milk" were amplified by an excellent trailer, and a number of Oscar clairvoyants are labelling it the front-runner in the top race. If this turns out to be the case, Black will likely benefit.
He may be a relative newcomer in the field — his most notable achievement is his work on TV's "Big Love" — but the film's marketing has done a remarkable job of establishing his creative presence. (The emphatic way the trailer and posters credit him had me wondering if I'd missed something on his resume.) He also just won the Hollywood Film Award for Breakthrough Screenwriter of the Year.
The other name generating the most buzz in this category is on the opposite end of the experience scale — Oscar's most-nominated screenwriter, Woody Allen. For years a default nominee, he's largely been absent in this category over the decade due to a perceived slide in creative form. Now riding the wave of "Vicky Cristina Barcelona," his most critically and commercially popular film for some time, he looks a good bet to make the cut this year.
Doubts remain over how hard The Weinstein Company can push this very light film, but Allen's own brand appeal, coupled with a likely campaign for current it-girl Penelope Cruz, should see him through here — as he showed three years ago when he managed a nod for the divisive, and otherwise slighted, "Match Point."
Beyond that, the waters get considerably murkier, with several previous Academy favourites in the category looking less solid. Mike Leigh's "Happy-Go-Lucky" brims with writerly wit and invention, and I declared it a surefire nominee when I reviewed the film back in April, particularly given Leigh's three previous nominations in the category. (One of which was for "Vera Drake," a far less showy writing feat.)
But the film didn't emerge from Telluride and Toronto with quite the heat I hoped it would, and I'm beginning to wonder if Miramax might concentrate their campaigning efforts on star Sally Hawkins. Leigh could still very likely slip in, but I think the film will need a major boost from US critics on its release.
Charlie Kaufman's "Synecdoche, New York" seems a likely nominee on paper, with Kaufman, arguably the most distinctive and revered screenwriter of his generation, once more tackling self-reflexive thematic material about artistry and creativity. But the film has divided critics, with some, even allowing for Kaufman's signature eccentricities, finding it simply too esoteric. I haven't yet seen the film (and can't wait to do so), but I have a hunch the Academy might fall into the latter camp.
Andrew Stanton's "WALL-E" was deemed a strong contender earlier in the year, given the category's recent tendency to acknowledge outstanding animated work (including a nomination for Stanton himself, for "Finding Nemo"). But despite the breathless acclaim "WALL-E" received upon its release, it lost most of its summer momentum to "The Dark Knight." Stanton's chances aren't helped by his film's long silent stretches — the voters tend (mistakenly) to equate "dialogue" with "writing."
Another former nominee looking to return to the fold is Susannah Grant ("Erin Brockovich") who brings us another uplifting true-life story, "The Soloist." Some are predicting big things for this very (some might say excessively) baity title; I am not among them. Grant, for me, is potentially the project's biggest liability; "Brockovich" aside, her career has seen her floundering in unabashed (and frankly, poorly written) schmaltz, including "In Her Shoes" and "Catch and Release." The trailer for "The Soloist" did little to reassure me that she's reined in her weaknesses.
Two low-key contenders that I'm picking for a freshman nod in the category are Tom McCarthy and Philippe Claudel. McCarthy's "The Visitor" was the uncontested critical favourite of the year's first half, and it's the kind of compassionate, intelligent, character-oriented independent fare that the writers frequently like to recognise. McCarthy came this close to a nod in 2004 for "The Station Agent"; with a well-timed DVD release imminent, and Overture Films planning a focused campaign for the film, I think McCarthy could well go one better this year.
This category is also more accommodating to foreign-language cinema than any other, and I sense Claudel's "I've Loved You So Long" could benefit from the branch's cosmopolitan tastes. Led by a searing awards-bound performance from Kristin Scott Thomas, the film, as I've discussed, is also a dazzling writer's showcase. Ironically, I think Claudel's chances are helped by the fact that "So Long" won't be competing for Best Foreign Language Film; if the film becomes a critics' darling (and I think it will), the Academy will have to look elsewhere to acknowledge it.
Numerous other possibilities abound. There has been much praise (if not on these pages) for Jenny Lumet's "Rachel Getting Married" screenplay; being Sidney's daughter can't hurt any, either. If the dual-engine Clint Eastwood machine takes off this year, it could spell success for two relative newcomers to film: "Gran Torino" scribe Nick Schenk, and/or "Changeling"'s J. Michael Straczynski (a TV veteran of "Babylon 5" and, uh, "Murder She Wrote"). "The Wrestler" may turn out to have legs longer than just Mickey Rourke's. "Hunger" could be another dark horse from the arthouse. And who knows what to expect from "Australia?"
And I still hold out the slimmest thread of hope for the virtuoso writer's tour de force that is Martin McDonagh's "In Bruges." As I said at the start, if a left-field achievement like that has any home in awards season, this category is the place.
My predictions are here. Share yours — or just tell me what I've forgotten/underestimated/misjudged/got right (ha) — in the comments below.