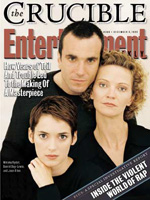 In 1996, a fall movie preview of Entertainment Weekly arrived in my mailbox, the cast of "The Crucible" staring back at me on the cover, making clear to me this was going to be THE film of the fall. There were rumors floating within the industry that the film, based on the Arthur Miller play, could conceivably be nominated for 12 or 13 Academy Awards, and it seemed a cinch for at least a Best Picture nod.
Having directed the play twice, studied it at length in university and being a huge Arthur Miller fan, I was thrilled that the film was finally going to get the intense big screen version it deserve. The 1959 French adaptation was okay, but not enough people had actually seen it. Here was a chance for one of the greatest dramas of the 20th century to make the transition to film with a superb cast, including Daniel Day-Lewis, Joan Allen, Paul Schofield and Winona Ryder.
Somewhere along the way Fox panicked and released the film late in December, and though Day-Lewis finished second in balloting for the New York Film Critics Awards, the picture never caught fire as it had been predicted to do. Instead it was a dismal box office failure, nabbing only a supporting actress nomination for Joan Allen and an adapted screenplay nod for Miller.
"The Crucible" is a great film, with powerhouse performances from Day-Lewis, Allen and Ryder, though many critics attacked the latter. But was the film a victim of over hype, or were audiences simply too familiar with the story? What happened?
The same sort of thing almost happened to Steven Spielberg's "Munich," which at this time in 2005 was being touted as not just an Oscar nominee, but the likely winner for Best Picture and Best Director, sight unseen. It opened and was very good, but it wasn't the searing masterpiece everyone had been hoping for.  And somehow "Crash" won the Best Picture prize.
I like "Crash," but I don't love it.  And "Brokeback Mountain" was a much stronger film, certainly more deserving of the Oscar that year, but my question is: What happened to "Munich?" Again was it over hype? Were the expectations simply too high?
Way back in 1976, two films were released over the course of the year that were expected to be great films.  "The Missouri Breaks" was an Arthur-Penn-directed western with Marlon Brando and Jack Nicholson that received, at best, tepid reviews.  Elia Kazan's "The Last Tycoon," meanwhile, featured Robert De Niro as part of an all-star cast that included Robert Mitchum and Jack Nicholson. Both films tanked, though early predictions had them as Oscar favorites.
Back to 2005, Peter Jackson's "King Kong" had a lot of pre-Oscar hype going for it.  The film knocked me on my ass. I remember sitting there like a little kid being thoroughly entertained, blown away by the visual effects.  Even the acting from Naomi Watts was Oscar worthy. Yes, it was long, yes there was some overkill with the effects, but I cannot remember being so moved by a MOVIE-movie in a long, long time.
For the most part critics loved it, but the box office was disappointing to the studio, obviously expecting "Lord of the Rings"-type of numbers.  And Oscar only called for design and effects elements.
With the amount of attention given to "The Passion of the Christ" in 2004, especially to the incredible box office, I had hopes that Gibson, at the very least, would be nominated for Best Director. My God, he had surpassed what he had accomplished with "Braveheart" and he won the Oscar for that.  Surely a nomination was forthcoming for his direction of this daring and powerful work.  Nothing.  Just some tech notices.
It's a strange question to ask on a year-round Oscar coverage website, but does early awards hype actually hurt a film's chances? If a film is written about long before its release date, are we in the media building the hopes of audiences (and ourselves) about a film's chances?
And with that in mind, what is going to happen this year? I admit to being deeply concerned about "The Curious Case of Benjamin Button" for many reasons, mainly gut-oriented. That instinct told me "Chaplin" would be weak, that "Hoffa" would tank, that "Amistad," although good, would gain no real love from any critics group or the Academy (four nods in all). I love David Fincher and believe in Brad Pitt, in the right role, is a formidable talent.  But something is eating at me about this one…I see it heading the way of "The Crucible."  And that would be very sad.
But it's just one example.  What film(s) do you think could suffer, regardless of quality, from too much hype in the early stages?  And can you think of others that have suffered the same fate?  There are many, but I want your input here.