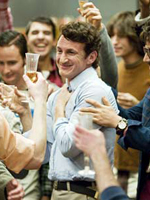 Not a whole lot has piqued my cinematic interest this year. "The Dark Knight," "Iron Man" and "Vicky Cristina Barcelona" are the happy pre-festival-season exceptions. But even with Toronto not yielding a whole lot in terms of Oscar frontrunners, I am finding more and more to be excited about in the coming months and expect an intense race for that little golden guy. Here are the six (well, seven…you'll see) most anticipated of the year for me, at this stage…
"The Road" (John Hollcoat)
Is anyone else as pumped for this as I am? After reading the book in three days, imagining Viggo Mortensen in a number of the scenes and Robert Duvall as the old man, I can't wait. If Mortensen does justice to the character (and I think he will), he is in for an Oscar nod, the second in a row for the actor.  And the film itself could be a dark horse contender for Best Picture and Best Director. The Academy has shown some courage these last few years embracing dark subjects, and this one is certainly dark.  Though the book ends with a ray of hope for humanity. Here's hoping they capture the intensity and raw realism of the novel.
"Frost/Nixon" (Ron Howard)
I've probably read every book every written about Richard Nixon, including the many he wrote himself. Anthony Hopkins did a superb job portraying him in Oliver Stone's outstanding film "Nixon" and character actor Lane Smith did a knockout job in the TV film "The Final Days" back in the late 1980s. Like Hopkins, actor Frank Langella neither looks nor sounds like Nixon, (more so than Hopkins though) but the trailers seem to make it clear he has captured the man to perfection, and I am hoping the film is as good as the play was. Langella and Michael Sheen have the chops to bring two dynamic characters to life, provided director Ron Howard allows the film to have the edge it needs.
"Doubt" (John Patrick Shanley)
I keep hearing that this film is shaky, but the trailer looks terrific, and this is Meryl Streep, people! The greatest actress in the history of the cinema, in a role that looks like it demands her talents…all of them. She is surrounded by a strong cast, no less than Philip Seymour Hoffman and the wonderful Amy Adams (who so deserved a nod last year for "Enchanted").  My gut tells me this film is going to quite something. Like everyone else I am concerned with the director, but he has been around the industry long enough to know with a fine script you let the actors go.
"Milk" (Gus Van Sant)
Any one who reads the site is well aware of my admiration for Sean Penn and I have every confidence that "Milk" will land him in the nominees circle again.  It might just lead the way to Oscar number two. The part is a huge challenge for him, and he responds well to challenge, not to mention being surrounded by a strong supporting cast and an excellent director.
"Revolutionary Road" (Sam Mendes)
I like Sam Mendes as a filmmaker.  "American Beauty" was excellent, of course, and I thought "Road to Perdition" was an unappreciated masterpiece. "Jarhead" had problems but still gave us some of the most startling images in a modern day war film. "Revolutionary Road" is so much more than a chance to see Leonardo DiCaprio and Kate Winslet together again, though that indeed is enough for most. The film offers two of the finest actors of their generation, perhaps the best two in their age group, portraying adults this time, not star crossed kids thrown together by fate. Here they are a married couple struggling with the times in a film based on the Richard Yates novel.  I am expecting something very special.
"Changeling" and "Gran Torino" (Clint Eastwood)
And finally (I cheated with a tie here), there is Clint Eastwood's "Changeling," which I expect to be among the year's best, and "Gran Torino," which I have a hunch may land the old gentleman in the Best Actor race. The Academy loves him, and is there another director nearing 80 so incredibly active and consistently excellent these last few years?
So after a disappointing first three quarters of the year, a few films aside, here we go with the "good stuff."  What are your most anticipated films for the rest of 2008?  Tell us in the comments below!