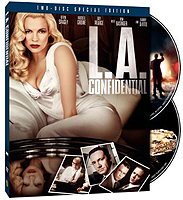 One of the greatest experiences I have ever had at a Toronto festival was the North American premiere of Curtis Hanson's "L.A. Confidential," which was instantly declared a masterpiece and one of the great film noirs in movie history.
Dark and entertaining with a twisting and turning narrative that keep viewers guessing throughout, the film was embraced by the critical community in a huge way, topping most of the 10-best lists that year and winning best-of-the-year prizes from the Los Angeles Film Critics Association, the National Society of Film Critics and the New York Film Critics Circle.
The film is receiving a shiny new DVD release this year and I couldn't be more excited.  The package offers a slew of special features: commentaries from film critic Andrew Sarries, author James Ellroy , nearly the entire cast, director of photography Dante Spinotti and production designer Jeannine Oppewall; a new making-of documentary with updated interviews with the players; detailed examination of the look of the film; "From Book to Screen" with Hansen, Brian Helgeland and Ellroy; and a focus on the film's ensemble.
As always the star of any re-issue is the film itself,  and "L.A. Confidential" remains one of the great films of the 1990s — a sublime work of art.
Superbly acted by Guy Pearce, James Cromwell, Kevin Spacey, Danny Devito, David Strathairn, Kim Basinger and Russell Crowe (in a star-making turn), the picture was a tight ensemble piece.  It fired on all cylinders: direction, cinematography, design elements, and a film score that effortlessly zapped us back to 1950s Los Angeles.
Kevin Spacey, two years after winning the Academy Award for Best Supporting Actor for "The Usual Suspects," portrayed Jack Vincennes with a Dean Martin sort of cool, an honest cop who had sold his soul to television where he worked as an adviser on a popular series. Spacey was the anchor for the film, giving a marvelous performance that the other actors bounced off of nicely. His swift and shocking end remains one of the most startling moments I have witnessed in a film. I remember gasping out loud when the tables turned so quickly.
Watching the actors carve out their characters was fascinating.  Crowe was the hot tempered cop unable to let even the most casual insult go.  Pearce was the do-gooder who realizes that being an honest cop does not always mean making the right choices.  Spacey was the ultra cool gumshoe who re-discovers his true self. Cromwell was the ever-smiling epitome of ambiguity. Devito was the sleazy magazine editor looking for the hot story for his crummy rag.  And Basinger was a call girl from a small town trying to find some decency in her life.
Everyone was top notch.  This is what ensemble acting is about, and if ever there was an Oscar for cast performance, this would be a sure winner.
Though the reviews were clearly raves, "L.A. Confidential" was not a huge box office success. Come Oscar time, the film was nominated for nine Academy Awards, including Best Picture, Best Director, Best Adapted Screenplay and best Supporting Actress (Kim Basinger). In December, James Cameron's "Titanic" was unleashed, quickly becoming the juggernaut to beat.
Cameron's film won the lions share of Oscars — 11 all told — while Hanson's greater achievement took just two (for the magnificent script from Hanson and Brian Helgeland and for Kim Basinger, who probably bested Gloria Stuart by the skin of her teeth).