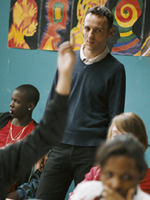 One big question mark floating around since the foreign language film submissions started trickling in has been which film France would submit, the Cannes sensation (and Palm d'Or winner) "The Class" or Philippe Claudel's "I've Loved You So Long."
Anchored by a critically acclaimed performance from Kristin Scott Thomas, Claudel's film is one of the most buzzed films to come out of Telluride and Toronto.  "Best film of the year" has been a typical verdict.
Then again, it's hard to argue with Laurent Canet's Palm d'Or winner, which beat out some thick competition on the Croisette this year.
Well today we get an answer.  France will be submitting "The Class" as their foreign language film contender in this year's Oscar race.  The result is similar to last year's debate when the country had a critical darling and a film packing a performance punch to work with in "Persepolis" and "La Vie en Rose" respeticvely.  The former ended up making the trip before being unceremoniously cut from the competition during the early stages.