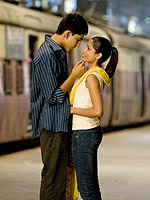 The Envelope's John Horn does a wonderful job today of reporting on the long, winding road home for director Danny Boyle and his festival hit "Slumdog Millionaire."  Fox Searchlight has handled the domestic distribution of most of the director's titles, but "Slumdog" had to face some trials and tribulations to get there.
Here's a taste:
When Warner Bros. announced in early May that it was closing its two specialty film divisions, Warner Independent Pictures and Picturehouse, other art house distributors immediately starting telephoning around, trying to determine the fate of director Danny Boyle's film, which Warner Independent had penciled in for a Nov. 7 release.

So why wasn't Boyle's biggest Hollywood benefactor actively chasing the British filmmaker's latest movie? The studio somehow knew that "Slumdog Millionaire" would eventually make its way from Warners to Fox and that the best strategy (and smartest bargaining tactic) was to sit back and wait.

It's a way of thinking not unlike how Boyle shot his rags-to-riches movie in the disorganized sprawl of Mumbai. "If you trust it," Boyle said of his Zen-like attitude of shooting a movie in the world's largest city, "it will come back to you."
And then the scrambing:
Rather than wash its hands of "Slumdog Millionaire," Warners tried to figure out how it could handle the film without using Warner Independent. The studio asked Bob Berney, the head of Picturehouse, to take a look to see if Picturehouse could be reconstituted to distribute the film. "I really loved it," Berney said. "I think it's his real home run — it really brings it all together."

But the costs of reassembling Berney's team were prohibitive, especially if "Slumdog Millionaire" wasn't going to come out until early 2009. "They would essentially have to pay everyone double," Berney said, "because we had already fired everybody" and had paid them severance.
Before destiny beckoned:
Producer Colson said that just as the movie is a fable about fate, so too is the story of "Slumdog Millionaire's" zigzagging path to the screen.

"It's a movie about destiny, and we've had some twists and turns ourselves," Colson said. "Is Fox Searchlight a better distributor for the film today than Warner Independent was 12 months ago? I don't know. I'd like to think Warner Independent would have done a great job, but they never got a chance to show us what they could do.

"But is the movie in a better position than it was four months ago? The answer is a categorical yes. Because now it will get a chance at the life it deserves."
It's a great little story.  Read the rest here.