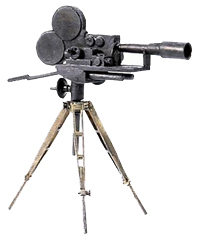 Last week we took a look at the films that have already been released and now appear to be in contention for crafts nominations come Oscar time.  Now that the dust is settling from the Toronto and Venice Film Festivals, it's time to look ahead…
Very often we see films dominate the crafts categories and end up with many nominations.  Recent examples include "The Aviator," "Memoirs of a Geisha" and "Dreamgirls" though, in all fairness, not to the extent expected.  Such films tend to be set in period, large in scope and contenders in the main categories as well.  And a number of upcoming efforts are aiming for that kind of recognition.
Baz Lurhmann's "Australia" seems the obvious example.  Lurhmann is a visual master and this film could be an amazing palette.  Cinematographer Mandy Walker and production designer/costume designer Catherine Martin (Mrs. Lurhmann) strike me as likely nominees.  This is not to mention great opportunities in sound, editing, makeup and a potential return to the game for Aussie composer David Hirschfelder.
David Fincher has the opportunity to finally break through with Oscar in a major way with "The Curious Case of Benjamin Button."  His films have — shamefully, in my opinion — received a grand total of three Oscar nominations to date.  While a few hasty bloggers gave some cold knee-jerk assessments of a reel of footage at Telluride, I'm willing to give it the benefit of the doubt for now.
Moreover, "Button" should prove to be visually spectacular.  The cinematography, editing, visual effects and makeup will likely be integral to the plot.  The sets and costumes will span 80 years.  This sounds like the makings of a potential crafts category behemoth.  And don't forget the score from Alexandre Desplat, my favorite working composer.
Edward Zwick's "Defiance" is another film that could be a massive player in the crafts fields.  While Zwick's films are notorious for their flat critical receptions, they almost always involve themes the Academy loves and "Defiance" should prove no exception in this regard.  Indeed, his films usually take at least three nominations in the crafts categories.
Zwick has not disappointed in amassing a slew of respected artists who have been recognized by the Academy in the past: cinematographer Eduardo Serra, costume designer Jenny Beavan, film editor Steven Rosenblum and composer James Newton Howard.  Veteran production designer Dan Weil seems bound to be nominated eventually, while the still undocumented sound designers are sure to be top notch.
"Revolutionary Road" reunites Kate Winslet and Leonardo DiCaprio, under the direction of Winslet's husband Sam Mendes.  The story alone (based on an immensely popular Richard Yates novel) is bound to bring it major attention.  But being a 1950s melodrama, it seems to be a playground for the techs.  Expect nominations for cinematographer Roger Deakins, production designer Kristi Zea, costume designer Albert Wolsky, composer Thomas Newman and possibly editor Tariq Anwar if the film delivers.  All are previous nominees (though Zea's nomination came, ironically, in the Best Picture category for "As Good As It Gets.")
Clint Eastwood has become an Oscar staple in recent years.  It is therefore somewhat surprising that his three recent Best Picture nominees ("Mystic River," "Million Dollar Baby" and "Letters from Iwo Jima") have managed only two crafts category nominations between them.  This could easily change with, uh, "Changeling."
Despite detractors, this was generally well-received at Cannes and Eastwood's name guarantees prestige.  Moreover, being set in the 1920s, nominations for art direction and especially costume design seem very possible.  If the film is in serious contention for a Best Picture nomination, I would also look to Joel Cox's editing and perhaps even the cinematography of Tom Stern (still not nominated despite numerous collaborations with Eastwood).  A longshot would Eastwood's score.  But the music branch has been given numerous opportunities to give him a nomination and continues to disregard his work in that category.
Stephen Daldry's "The Reader" is, at the moment, expected to release this year after all.  Like "The Hours," this film is going to span decades, which requires top-notch work out of production designer Briggite Broch and veteran costume designer Ann Roth.  Should the film catch on I feel nominations could be in the works not only for those two ladies as well as cinematographer Chris Menges and film editor Claire Simpson (both Oscar winners), not to mention composer Alberto Iglesias and the makeup team, responsible for aging the characters.
There is often room in the crafts categories for pure eye candy as well.  While the overall word on Saul Dibb's "The Duchess" out of Toronto was more respectful than glowing, the production design of Michael Carlin and, especially, the costumes of Michael O'Connor received nothing but glowing notices.  I also would not rule out the makeup category or Rachel Portman's score.
Gus Van Sant's "Milk" has the potential to be a big Oscar player and early word is kind to its crafts artists.  I'd look at Elliot Graham's editing as a surefire contender, with Denny Elfman's score a big possibility as well.  While the art direction and costume design strike me as possibilities not to be ruled out, I'd especially look to the cinematography of Harris Savides, still looking for his first nomination despite being a favorite in the branch.
I'm personally skeptical of Ridley Scott's "Body of Lies."  For some reason, I'm not feeling a massive hit coming our way.  But even if my intuition is correct, I feel the film editing (from Pietro Scalia) as well as the sound work (Scott always attracts numerous Hollywood veterans) are major contenders.
Elsewhere, I'm not sold on the chances of John Hillcoat's "The Road" just yet as some seem to be.  But if I'm wrong, watch out for the editing from Jon Gregory and especially the cinematography from Javier Aguiressarobe, which will be essential for building the mood.  The sound categories could be quintessential for the same.
Speaking of the sound fields, let's also not forget the blockbusters, like "Quantum of Solace" and "The Day the Earth Stood Still," which might try to make headway in those arenas, plus visual effects.
Lastly, I think it's important to acknowledge films that might get caught up in a sweep.  "The Soloist," "Frost/Nixon," "Doubt" (which is also lensed by Deakins) and "The Wrestler" may not, on first glance, seem like likely crafts category sweepers.  But let's not rule out their chances, especially in the music and film editing categories, if these films really catch on.
Well that's the end of the preview.  Next week, we start looking at the categories in depth, beginning with Best Cinematography.
Check out past "Tech Support" columns.