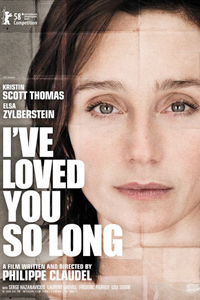 A quietly extraordinary debut from French novelist and screenwriter Philippe Claudel, "I've Loved You So Long" interweaves so many narrative strands familiar from various other domestic dramas it's hard to believe this particular story hasn't been told on screen before.
Yet these elements — sisterly estrangement, parental insecurity and the social rehabilitation of a chronic introvert among them — have been assembled here with such authorial dexterity, emotional immediacy and narrative audacity that the resulting film feels at once inventive and essential. This is that rarest of things in contemporary cinema: a story that needed to be told.
It seems perverse, then, that I am unable to furnish this review with anything more than the most fundamental aspects of said story. But to do otherwise would detract both from the delicacy and patience with which Claudel unfurls his narrative, and the visceral emotional response felt by the viewer upon each successive revelation. (In my opinion, some readers may indeed have learned too much already from reading certain gauche reviews.)
Claudel's storytelling accumulates information on a strictly need-to-know basis, forming a structural house of cards in which each plot point fragilely supports the next — until, in the film's very last reel, the intricate system of withheld knowledge can no longer sustain itself, and the protagonist's staggering truth emerges.
As it stands, I feel comfortable revealing that the film opens with a reunion between two long-separated sisters, middle-aged Juliette (Kristin Scott Thomas) and the significantly younger Lea (Elsa Zylberstein). Initially remote to the point of catatonia, Juliette has arrived to stay with Lea, a bright, perky academic, after serving 15 years in prison for a crime so horrific nobody can bring themselves to mention it directly.
This awkward not-quite-homecoming brings Juliette into contact with a family she has never met — Lea's nervous, distrustful husband Luc, Luc's more benign, stroke-afflicted father, and most significantly, Lea's two young adopted daughters, the elder of which forms an immediate, and problematically inquisitive, fascination with this aunt she never knew existed. Initially panicked into personal retreat by these encounters, Juliette gradually ventures away from her emotional island and begins to embrace the possibilities of life in the outside world.
Beyond that, I'm reluctant to reveal more, except to say that Juliette and Lea's respective psychological journeys intertwine in ways that are alternately inevitable and breathtakingly unexpected.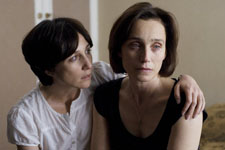 This is not a film of major incident and climactic conflict, and Claudel makes a concerted and laudable effort to steer his story away from the melodrama to which it could obviously lend itself. He has the gift of the very best writers — to locate drama and inherent tension in everyday events, locations and gestures, without having to explain or rationalize it.
One of the film's very best scenes occurs when the sisters go for a night on the town: faced with a crowded club, Juliette feels unequal to the density of such human contact, and darts before Lea can even gauge her reaction. The two reconvene in the street, Juliette distraught, Lea at last comprehending the challenge she has asked of her sister. This entire shift in emotional and character dynamics is accomplished with barely a word of dialogue.
It is but one example of the masterly scene construction Claudel demonstrates throughout his screenplay in the service of a structure that is admirably spare yet never self-consciously minimalist. Claudel adheres to the screenwriter's axiom of entering scenes late and leaving them early, focusing on the precise point of impact between two characters and leaving his audience to interpret its causes and consequences. (In his most intriguing stroke, he enters the sisters' final all-revealing interaction at its mid-way point.)
Less patient viewers might find the rhythm of Claudel's storytelling a little disorienting, but the upshot of such economy is the film maintains tension far beyond the premise suggests it might.
The fine-tuned precision of Claudel's construction, however, would be for naught if the cast couldn't give it the inner life it needs to fly onscreen. Happily, they are more than equal to the task. Everything that has been said about Kristin Scott Thomas' portrayal of Juliette is true; this is quite possibly the richest, most complicated character that has been written for a mature female actor in several years, and she seizes upon it to craft the most honest and perceptive performance of her career.
Many of the reviews paint her portrayal as some kind of film-consuming tour de force, but it's much more calibrated and surprising than that. Immaculately attuned both to her material and her surroundings, she observes as much as she acts, listens as much as she speaks, more concerned with crafting a character than a performance.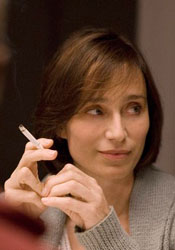 The result is that her Juliette is a constant, alert presence even when she's at the edges of the frame; something as simple as the defensive manner in which she smokes her cigarettes becomes a vital outlet into her shifting perceptions of self and other. It's truly exquisite, at times unnerving, work, and I can't imagine another performance (of either gender) besting it this year. Academy, take note.
At first glance, Zylberstein may appear to have the less challenging role, but it's anything but. As the younger woman, bewildered as the difference between giddily-anticipated fantasy and cold reality causes her to realign her personal and professional values, she has the tricky task of balancing Scott Thomas's froideur with rehearsed normalcy.
Her most impressive scenes come early on, as she nervily battles to fill the spaces of her sister's silence with chatter, constantly watching for any change in signal. The two actresses really play beautifully against each other, and Zylberstein, as Kris correctly noted, should be in line for awards consideration.
The cast is, in fact, exemplary across the board; this is far more of an ensemble piece than the publicity suggests. Of particular note is Frederic Pierrot as Juliette's lonely parole officer Faure — a heartbreaking study in "only-connecting" that provides many of the film's most affecting moments.
Recalling the subtler work of Francois Ozon and Claude Chabrol, "I've Loved You So Long" will inevitably be described as a "small" film, though the tag is misleading. Its physical scale may be modest, but Claudel's film touches on vast social and personal themes that many filmmakers working in a similar bracket would be afraid of. Searing, compassionate and surprisingly witty, this is art that doesn't  announce itself as such; it's about humanity first of all. And it stands head and shoulders above anything else I've seen this year.