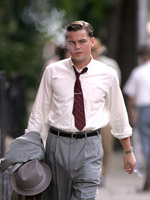 The Best Actor category tends to be one of the more crowded categories come Oscar time, and 2008 looks to be no exception. To be sure, there are a handful of frontrunners as usual, but hovering behind them are another group, more than eight who could easily sneak in and nab a nomination. Last year Tommy Lee Jones was nominated for his powerful work in "The Valley of Elah," a richly deserved nod, but completely unexpected by the majority of prognosticators.  I remember smiling when I heard his name read, but it was a huge surprise.
I would expect something similar this year, as we have some of the great  actors and potentially stunning performances in contention.
The obvious frontrunner at this point is Mickey Rourke, basking in the attention being given to "The Wrestler."  His performance is nothing short of miraculous, an astounding piece of acting, and it is great to see him back in the fold.  But when it comes to winning the award, I have to say: not a chance. Rourke is intensely disliked in Hollywood.  He's seen as someone who basically spit on the industry to walk away and become a boxer. As a friend close to Rourke said, "A lot of people were happy when he left and don't want this guy back."
Frank Langella looks to be terrific in the trailers for "Frost/ Nixon."  He has always been a great actor, better known for his stage work than film, though in the last few years he has become a formidable presence on the big screen. I remember seeing him as "Dracula" both on stage and on film in the late 1970s and hoped he would go far. He did, just not in the movies, until recently.
Kris has Michael Sheen down as a lead actor possibility as well, and I agree. It's one of those "Amadeus" situations where one performance cannot exist without the other. There is a strong chance that if the film and the actors are terrific, both of them will be nominated, though Langella certainly has the showier role of the two.
Sean Penn is probably headed for his fifth nomination for "Milk," which could prove to be the actor's most daring and complex performance to date. Penn is a fearless actor, inhabiting his roles with an authenticity that is unnerving, and again, if he is as good as he appears to be in what we have seen so far, he has to be considered a lock and could potentially grab his second statuette.
Robert Downey Jr. has to be nominated this year for something…my God, "Iron Man" if necessary. For a while now, his supporting performance in "Tropic Thunder" seemed to be a solid bet, but he is said to be very good in "The Soloist." This is a comeback the Academy  (I think) would like to honor, and Downey is more than deserving of attention for his fine work this year. Jamie Foxx's performance in the film cannot be ignored though, and Hollywood and the Academy have a soft spot for actors portraying afflicted characters.
Clint Eastwood has earned a lot of attention for his acting since 1992, when he gave a powerful performance in "Unforgiven," surpasing it 12 years later in "Million Dollar Baby." As the gruff old bird in "Gran Torino" who befriends a young boy and sister in a gang infested neighborhood, he may have the role of a lifetime, or not. The Academy adores him, more as a director, but hey, he has that going for him this year as well…
Two younger actors hovering for a nod are Brad Pitt in "The Curious Case of Benjamin Button" and Leonardo DiCaprio in "Revolutionary Road." DiCaprio is a brilliant actor, capabel of slipping under the skin of the character and disappearing, while Pitt, though very good, lacks DiCaprio's genius as an artist, in my opinion. That is not to say Pitt does not have the goods.  In the right role, he certainly does. He was outstanding last year in "The Assassination of Jesse James by the Coward Robert Ford" and deserved to be nominated. His role in "Button" looks demanding, and the AMPAS may finally see fit to nominate him for a lead performance. As for DiCaprio, he can never be counted out, but I do not think it is in the cards for him this year. Only five are called.
Viggo Mortensen got in last year for "Eastern Promises" and could grab a second mention for "The Road," the film based on Cormac McCarthy's post-apocalyptic novel.  The narrative sees Mortensen trying to stay alive and out of the way of nasty cannibals (who are trying to do the same) with his son. A brilliant, gifted actor, it sounds like Mortensen will anchor the film, and if strong, could be among the nominees.
"Che" as a four-and-a-half-hour film should land Benicio Del Toro among the nominees for Best Actor, but with IFC Films splitting the film in two for Oscar consideration, I believe the arc of his performance is severly damaged and he will not be nominated.
Who else? If "Lovely, Still" finds a distribution deal, Martin Landau is most deserving for his lonely old man finding romance late in life, the joy altered by a horrible twist.  And Christian McKay, could be campaigned as a lead in "Me and Orson Welles."  If "Australia" impresses at all, Hugh Jackman could ride that crest to a nomination, though he is the least likely in this article. Is Philip Seymour Hoffman lead or supporting in "Doubt?"  Where does he sit?
And finally, dear Richard Jenkins, who could land his first nomination for "The Visitor." A veteran character actor given a career kick by his work in "Six Feet Under," Jenkins is enjoying loads of acclaim for the first time in his long career. Though I highly doubt a nod for him, I will be cheering for him throughout the season.
Who are you predicting for Best Actor this year?  Tell us in the comments section below!