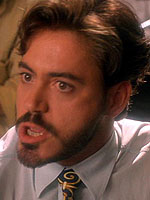 Our friend John Campea over at The Movie Blog recently posted a list of the top 10 performances Robert Downey Jr. has given us over his roller-coaster career.  A nice idea for a post given the career resurgence Downy is enjoying this year, and perhaps one more portrayal will be taken into consideration in a few months when "The Soloist" drops.
Anyway, John's list got my wheels turning to say the least.  I object with plenty of it, from choice of performances to the ranking order, but a few of the omissions really sting.
So I figured I'd just toss up my own list (keeping in mind I haven't yet seen "A Guide to Recognizing Your Saints"):
1. "Natural Born Killers"
2. "Chaplin"
3. "Less Than Zero"
4. "Fur: An Imaginary Portrait of Diane Arbus"
5. "Kiss Kiss Bang Bang"
6. "Two Girls and a Guy"
7. "Iron Man"
8. "Zodiac"
9. "Tropic Thunder"
10. "Restoration"

What say you?