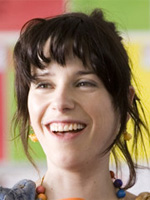 As regular readers may know, I've been yammering on about a Best Actress nomination for "Happy-Go-Lucky"'s delightful Sally Hawkins since I reviewed the film back in April. So I'm pleased to see that Hawkins will receive the Breakthrough Actress award at next month's Hollywood Film Awards.
As I said when they named their crafts honorees earlier this month, I'm a bit mystified by these awards, which appear to honour as-yet-unseen films rather frequently. Still, it's difficult to argue with this selection: in a crowded field of Best Actress contenders, Hawkins is the freshest face out there. It's a good omen for her Oscar chances — last year's honoree was Ellen Page.
"Happy-Go-Lucky" didn't emerge from the festival circuit with quite the amount of heat I hoped it might, but Hawkins remains a solid contender for awards consideration. As we know now, the performance has a major Marmite factor — people either love or hate Hawkins' character — but it's sure to stick in people's minds.
Elsewhere, the Breakthrough Actor award went to James Franco — another obvious choice, and a move that gives credence to the Best Supporting Actor buzz for his performance in "Milk," something Kris just discussed.
"Milk" scored twice with the awards, with newbie (not that you'd know it from the marketing) scripter Dustin Lance Black named Breakthrough Screenwriter. Meanwhile, "Doubt" helmer John Patrick Shanley picked up Breakthrough Director. The latter strikes me as something of a safe choice in a year that has given us stellar debuts from such talents as Martin McDonagh and Philippe Claudel, but we only have the trailer to go on.
Finally, pointing to two Oscar inevitabilities, the Animation award will go to Andrew Stanton for "WALL-E" (well, duh), while "Iron Man" will be recognised for its visual effects.