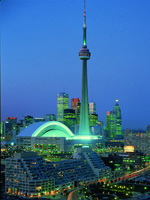 And with a whimper it ended. With many press headed home by Wednesday of this week, the screenings were a little less crowded, there was much grumbling about the lack of strong films, and very little buying action.  The festival wound down slowly, like something in the throes of a long, drawn-out death.
In the more than a decade I have been covering the Toronto International Film Festival, I've never seen a weaker year than 2008 — at least in terms of sheer quality of product. Many writers compare the festival's success with the number of films that go on to Oscar glory, and at this point, we have no idea, but I think it is safe to say the Oscar candidates coming out of this year's festival will be limited.
Last year, for instance, four of the five nominees for Best Picture played here. Many news writers and critics are asking why the festival was so weak, but I think the answer is rather simple: 2008 is shaping up to be a poor year for film in general, and the festival was an unfortunate victim of that.
I know for a fact some of the films the festival programmers wanted were simply not ready, "Milk" being one of them.  And though previously announced on IMDb, "The Road" never made it here either. The reasoning behind "Changeling" skipping out on Toronto was too foolish to comprehend (Angelina Jolie couldn't make it and Clint Eastwood wouldn't have been sexy enough on his own), and I think the programmers recognize that now.  And though "Doubt" was a sought-after showcase, that would never come to pass either.
There is talk that the festival is actively trying to divorce itself from the Oscar race and the Hollywood product, but I still say this year's fest was weak regardless of all that.
In any case, I thought I'd give a brief recap for those who haven't been able to keep up with the day-to-day coverage…
"Che" and "The Wrestler" are brilliant, Oscar-worthy works, but the former, at more than four hours, is hardly mainstream and is too demanding on the average viewer. It did sell, and IFC Films is going to screen the long version for one week in Los Angeles and New York to qualify for the Oscars.  That will help Benicio Del Toro's Best Actor hopes. Splitting the film in two impacts on the arc of his superb performance, and could cost him a nod. That said, does it really matter in the wake of Mickey Rourke's splendid career reviving performance?
Rourke is Oscar bound, and despite being hated by many in the business, he stands a good chance of winning the award for one of the all-time great screen performances. His co-star Marisa Tomei should land a nod as well, and director Darren Aronofsky deserves to be in the race with them.
Anne Hathaway also looks Oscar bound for her work in"'Rachel Getting Married" as a toxic, dysfunctional young woman railing against her family as they sit and wait for her inevitable explosion. Debra Winger could end up with a nod for supporting actress for the film also.
"Lovely, Still" was one of the happy surprises, a wonderful little discovery with Ellen Burstyn and Martin Landau in top form in what appears to be an autumn romance sort of yarn, but turns out to be so much more. Burstyn is luminous, and if the film finds distribution, she could land a nomination for Best Actress.
The disappointments? Many.
Spike Lee's "Miracle at St. Anna" was a huge let down, dreadfully scored by Terence Blanchard, with weak performances and a rambling script. Hardly the great war film Spike suggested he was making.
But hey, our own Paul Gross failed as well with "Passchendaele," which we all hoped was the great Canadian film about a great Canadian moment in history. Sadly the director chose to focus on the love story, giving the war components the short end of the stick. Too bad because the recreations of the trenches in Europe were startling in their realism and raw power.
As much as I love Ed Harris, his western "Appaloosa" failed to grab me as I had hoped it would, despite wonderful work from the actor/director and Viggo Mortensen. In another film, "Good," Mortensen seemed to be sleepwalking through his performance as a decent German seduced by Nazism before he realizes what has happened.
Though the film is flawed, I quite liked "Blindness," which was crucified at Cannes in an earlier incarnation. Julianne Moore was terrific, dominating a strong cast as a lone woman with sight in a world gone blind.
Already in release is the Coen brothers' "Burn After Reading," which was great fun despite being a bit sub-par for the duo.  And with a hysterically funny performance from Brad Pitt.
In theaters soon will be "Flash of Genius," a fine little film, almost Capra-esque in tone, with a strong performance from Greg Kinnear.  But it's certainly not on the level of what he did in "Auto Focus" as sex deviant Bob Crane.
Despite some strong performances, "Pride and Glory" is all too familiar for audiences, while Deepa Mehta's latest "Heaven on Earth" bored me, unlike her previous effort "Water," which was deeply moving.
Danny Boyle's wonderful "Slumdog Millionaire" won the People's Choice Award, and judging by the critical reaction it could leap frog its way into the Oscar race. The film is good, but by no means is it great — so in a weak year for films, watch out.
Atom Egoyan's "Adoration" is among the director's weakest recent efforts, leaving us wondering when another film on the level of "The Sweet Hereafter" will come our way. Woefully miscast is Egoyan's muse and wife Arsinee Khanjian.
A star was born with Christian McKay, who gave a mind-blowing performance as a young Orson Welles in "Me and Orson Welles", the latest from Richard Linklater.  The film is about a young man falling in with the Mercury Players in the days before "Citizen Kane."
Alongside Rourke in the arena of comebacks was Kathryn Bigelow, with her war film "The Hurt Locker."  I found it to be a powerful study of bomb diffusers in Iraq.
The wonderful Bryce Dallas Howard proved her depth yet again with a strong performance in a weak film, "The Loss of a Teardrop Diamond," based on an original screenplay by the great Tennessee Williams. Howard was superb as a troubled southern belle questioning her place in a society she loathes.
And of course I saw the documentary "Every Little Step," a study of the history and cultural impact of the hit musical "A Chorus Line." The film was utterly fascinating and I left with a great deal more respect for Michael Bennett than I had had going in.
So…after 10 days, it is done, and we can start planning for next year. I plan to attend Sundance in January and may head to New York's festival as well this year. Though gruelling, I love it…I just love it.  Hope you've enjoyed the coverage.