Lots of stuff happening on the promotion front this week.  Posters and trailers galore.  More on all of that in tomorrow's "Off the Carpet" column, but for now, it looks like Joe Wright's "The Soloist" has landed a one-sheet: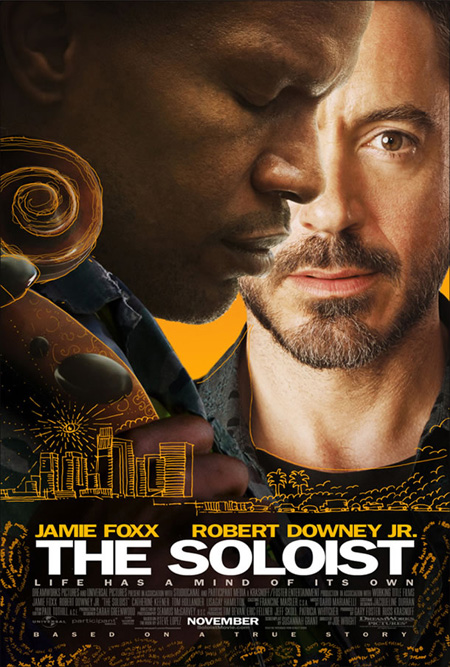 Meh.  Shades of "Brokeback Mountain."  And I'm not crazy about the tagline either.  I like the scribbling along the edges, though.
Additionally, Apple has released a behind-the-scenes featurette of the film.  Have a look:
The offical website for "The Soloist" went up this weekend as well, and as always, you can keep track of the latest over at the film's buzz page.
While I'm on the topic, I should point out that Steve Lopez is one of the coolest cats in town, bar none.  I met him a few months back at Vroman's in Pasadena.  He spoke at length to a crowd of eager bookworms about his encounters with Nathaniel Anthony Ayers on the streets of Los Angeles, which of course led to numerous articles in the paper and the inevitable book.
(I've always thought the best part of that audio recording from Vroman's was when Lopez talks about how he and Ayers call each other Mr.s Lopez and Mr. Ayers.  No one tells a story like Lopez.)
As for the film version, I think Robert Downey Jr. has really nailed Lopez's look.  I half-expected there to be no particular interest in mimicking it, so thank God for small miracles.