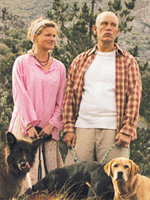 If you were remotely surprised that "Slumdog Millionaire" took the People's Choice Award at Toronto, you've clearly been living under a rock for the past month. The  award is an auspicious one, having previously annointed such international Best Picture contenders as "Chariots of Fire," "Shine," "Life is Beautiful" and "Crouching Tiger, Hidden Dragon."
Whether or not the widely-predicted Best Picture nom for "Slumdog" materialises, we're clearly going to hear the title a lot this awards season. (Not that the audience award is a guarantee of success — remember 2006's winner "Bella?" No? Didn't think so.)
Looking further down the list of winners, however, I'm pleased to see recognition for two "difficult" films that I've been interested in for some time.
As a devotee of South African author J.M. Coetzee, I've been eagerly tracking the film adaptation of his seminal novel "Disgrace," which won the FIPRESCI (International Critics') Prize for Special Presentations. By all accounts a measured, intelligent take on a very challenging work, the film, and leading man John Malkovich, have attracted very warm notices, including this Variety rave:
Anchored by another marvelously quirky yet deadly serious performance from John Malkovich, and likely to be relished by the fan base of J.M. Coetzee's Booker Prize-winning novel, this is a strong, perceptive, old-school arthouse pic with solid legs in all media … Malkovich is a living symphony of tics and mannerisms in service of a profoundly self-absorbed character.
Screen Daily was similarly enthusiastic, commending the film for its "intelligent restraint," and going so far as to draw a comparison between Malkovich's portrayal and Burt Lancaster's monumental turn in "The Leopard." David Poland loved it too, emphasising Malkovich's "fearless, unshowy, brilliant" performance.
Sadly, I doubt this small Australian production will be a player in the awards derby (as far as I know, it doesn't even have a US distributor yet), but it further contributes to a very good year for Malkovich — whose eye-catching appearance in the "Changeling" trailer suggests, to me, that he might well be in the Best Supporting Actor hunt.
Meanwhile, after winning the Camera d'Or at Cannes, as well as an additional prize at Venice, for his debut feature "Hunger," British artist-turned-filmmaker Steve McQueen added to his haul with the Discovery Award. Since it bowed in May, McQueen's chronicle of the last days of IRA hunger striker Bobby Sands has attracted steady praise, much of it reserved for up-and-coming star Michael Fassbender. (Cinematical's verdict, declaring the actor "nothing short of mesmerizing," is one of many.)
Although the film appears too bleak and low-key to resonate with Academy voters, I'm keeping an eye on Fassbender as a dark horse in an admittedly crowded Best Actor field. Meanwhile, the film seems a shoo-in for a Best British Film nomination at next year's BAFTA Awards — a category that repeatedly rewards smaller independent fare over crossover hits. ("This is England"'s victory over "Atonement" this year was the latest in a long string of so-called "upsets.")
Check out the other winners here.