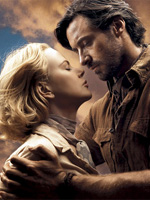 I've already expressed my eagerness for Baz Luhrmann's "Australia," probably my single most anticipated film of the year. I was thoroughly enraptured by the trailer that had many others passing snide pre-judgments on the film. (Bizarrely, words like "corny" and "artificial" were frequently thrown up as pejoratives, indicating that the self-irony of Luhrmann's previous work entirely escaped certain audiences.)
Now my appetite has been further whetted by this lengthy profile of the film that appeared in today's Sunday Times, in which Luhrmann and his stars make the scale of their ambition abundantly clear. And that ambition, to go by this quote from Nicole Kidman, is to create something as vast, iconic and quintessential as the title suggests:
This is the last of a dying breed, this kind of movie. They don't build stuff like this any more. To feel that air and see people ravaged by the elements, as hard as it is, it's exquisite. I dreamt of making a film that had the passion and the weight of the films I grew up watching — Gone with the Wind, Doctor Zhivago. When Baz and I first started speaking about this, seven years ago, I said there needed to be a film about our land that speaks on a much broader scale.
No pressure, then. Luhrmann, meanwhile, acknowledges the flak he will likely receive (already expressed by some readers on this site) for that bald, broad title, but his defence is both intelligent and mischievous:
Why "Australia?" Well, first of all, to get people all uppity about it, so there's a lot of comment. I think about films like Lawrence of Arabia, Out of Africa, Casablanca, Hawaii, by James A Michener: epics that use one word to describe a place. The film can't be definitive about Australia, but 'What does it mean?' is not a bad place to start when you're creating a story." Sixty years ago, Casablanca meant "faraway, exotic." I think even now, to the rest of the world, 'Australia' just means big, somewhat mysterious, somewhat misunderstood. This is a land far, far away. It has a sense of fairy tale about it."
And, just in case we didn't get the idea from his previous films, he emphasises that he is not one for half-measures on anything:
There's a crushing ambition behind the film. We don't make things very often, and when we do, we try to make something that isn't always out there, a meal that maybe isn't being served every day. Some of my favourite films are sushi, rarefied treats, but this sort of event cinema is like a Sunday meal — it's got a starter and a main course and a dessert. It's high comedy, high tragedy, tears, laughter, costumes. Everything big. Big actors. Big landscape.
I love that spirit. I wish more filmmakers today had it. Yes, the film could fail — and if it does, it would be in no small measure. But should it succeed, the rewards are just as potentially vast. "Moulin Rouge" may be one of the most polarising films of the decade so far — it's certainly one of the greatest, in my opinion — but its extremity is what ensures that it will continue to be watched and discussed and argued over long after "A Beautiful Mind" has slipped from the public consciousness. And that's all because the film was born of risk-taking — the director wasn't too modest or too cautious to hurl every creative weapon in his arsenal at the screen.
"Australia" is evidently another 'go big or go home' endeavour. Luhrmann knows it's going to be all or nothing. Either way, I'll be first in line.
Read the rest here.