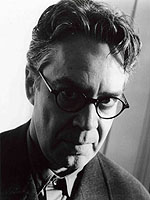 I came across a post recently at Film Score Monthly that indicates Howard Shore has taken up scoring duties on John Patrick Shanley's "Doubt."
So I checked over at the film's IMDb page, and sure enough, Philip Glass has been stricken from the record there.  But no mention of Shore either.
Alright, so I shot producer Scott Rudin an email and he tells me yes, Howard Shore has been brought on to work on the film's score.  Glass's schedule unfortunately did not fit with Shanley's Manhattan Theater Club rehearsal dates, so the production had to make a change.
All this could be seen as an upper or a downer depending on how you felt about Glass and his minimalist approach being initially married to the film's deeply serious subject matter.  But I think Shore has the goods, too.
I like Shore.  I think he always does amazing work, but more often than not, it services the material rather than transcending or overpowering it, and that can certainly be considered a plus.  His most memorable work, of course, is also his only Oscar-nominated work: Peter Jackson's "The Lord of the Rings" franchise.  But he has always added something special to the tension and eeriness of David Cronenberg's films, so perhaps he can bring something special to the table in "Doubt."
Keep an eye on this space for the new "Doubt" trailer, by the way.  It will debut sometime this afternoon and we'll get it up ASAP.  And as always, catch up on all the latest at the film's buzz page here.