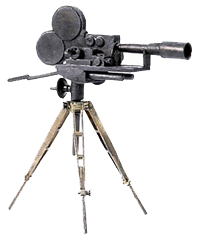 While this week is rightly being most noted by awards-watchers for the Toronto International Film Festival, I'm actually going to go a bit of a different route today. I will be sure to comment on the movers and shakers of TIFF next week as the dust begins to settle, however.
In a couple of weeks, I'll start exploring each of the technical categories, one at a time, examining the potential contenders.  But right now, I think it's a good time to look back on the contenders we've already seen.
Many of the highest profile films of the year could garner nominations in the major categories at the Oscars. Heath Ledger's classic turn in "The Dark Knight" seems almost certain to score recognition. (In my opinion, the film has much more potential than just Ledger, though that will depend on the reception of films we've yet to see.)
Penelope Cruz's work  in "Vicky Christina Barcelona" is bound to come into play during the awards season, with writer Woody Allen not too far behind. Films like "Frozen River" and "The Visitor" could wind up in contention for the performances of Melissa Leo and Richard Jenkins.
Not to mention Andrew Stanton's beautiful "WALL-E," which may have had its "summer favorite" buzz stolen by "The Dark Knight," but that does not take away from the prestige the Pixar name brings. (Though the minimal dialogue may prove a problem in garnering a screenplay nomination.)
But as I noted in a column here two years ago, the pre-Fall months can be a major source of nominations in the crafts categories.
Potentially the biggest player on this front is Christopher Nolan's "The Dark Knight." Whatever one makes of its chances in the Best Picture, Best Director and Best Adapted Screenplay categories, the film is a surefire contender across many crafts categories. While presumably disqualified from Best Original Score and without a song, I honestly think every other nomination is not out of the realm of possibility.
Andrew Stanton's "WALL-E," on the other hand, seems a surefire nominee for Thomas Newman's music and a likely nominee for Peter Gabriel's tune "Down to Earth." (Though, might I add, there can never be a sure nominee in the Best Original Song category — just ask Eddie Vedder.) Nods in both sound categories also seem almost certain. And on a final note, I would not totally rule out Best Visual Effects either, if the branch is really going "out there." ("Ratatouille" being shortlisted last year proved the branch is warming up to Pixar and the work on "WALL-E" is much more impressive.)
And then we have "Iron Man." This blockbuster started an amazing comeback year for Robert Downey, Jr. and was also deservedly praised as simply being a fine piece of filmmaking. Films like this are surefire contenders in the sound and visual effects areas. I'd say all three nominations – especially the latter – are likely.
These three films have received the most critical acclaim of mainstream releases this year while also performing very well at the box office. I suspect they are the surest bets to be in contention for multiple crafts nominations at the end of the year, at least from the product we've already seen.  But that is not to say other contenders have not already been unveiled to the public.
"Indiana Jones and the Kingdom of the Crystal Skull" may have been a disappointment in the quality department, but the visual effects and sound work remain firmly in contention in my opinion. Not to mention Guy Dyas's extraordinarily elaborate production design and the score from John Williams – a man always in the race when eligible. (Michael Kahn's film editing and Janusz Kaminski's cinematography strike me as longshot possibilities.)
A summer film that pleasantly surprised me was "Tropic Thunder." I personally found Ben Stiller's satire to be utterly hilarious and the makeup on both Tom Cruise and especially Robert Downey Jr. was not only transformative but incredibly important to the film's plot. "Click" and "Norbit" have been nominated in recent years – I'd hardly rule "Tropic Thunder" out.
A longer shot in the makeup category would be "Hellboy 2: The Golden Army," though I'm skeptical of its chances in the absence of a nomination for its predecessor. Such a hurdle is difficult, if admittedly not impossible, to overcome. "The Chronicles of Narnia: Prince Caspian," on the other hand, is a sequel whose predecessor won this category and the work this time around is no less impressive. But I can't help but wonder if the overall lack of enthusiasm that greeted the film will do it in.
As a huge fan of Evelyn Waugh's "Brideshead Revisited" and the classic mini-series with Jeremy Irons, the latest film version rubbed me the wrong way. Opinions aside, any prestigious, handsomely mounted period piece with respectable reviews should not be ruled out of contention in the categories of Best Art Direction and Best Costume Design. So I would keep an eye on Eimer Ni Mhaoldohmnaigh's threads and Alice Normington's sets as possibilities.
It is without any hesitation that I say "The Other Boleyn Girl" should be avoided at all costs. Simply put, I found the film awful. But John Paul Kelly's production design and, more notably, the costumes from the always amazing Sandy Powell still need to be considered as possible contenders. Worse films have been nominated and Powell's record and the respect she attracts makes me consider her a potential nominee in what I think could turn out to be a relatively weak year in the category.
While my suspicion is that only Peter Gabriel will emerge as a nominee of the ditties we have heard already, the infamous Best Original Song category is wacky. "Hamlet 2," "Pineapple Express" and "Sex and the City: The Movie" seem like the sort of films that would normally never land the moniker "Oscar nominee," but this is a category where that does not necessarily matter. ("Rock Me Sexy Jesus" hasn't caught on in the way one would think a song like that would need to, but past nominees have nonetheless shown a willingness for the music branch to have fun in this category.)
So that's all for this week. Tune in next week to look ahead at the contenders that have come out of Toronto – and also a preview of what lies ahead.