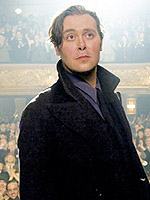 Listening to the conversations of the other critics in the various theaters, it becomes very clear that this year's fest has been something of a disappointment, the first in a long, long time.
At least one critic pointed out to me that Oscar and TIFF divorced this year, which has been mentioned ad nauseum and is probably a pretty fair assessment of the situation. A lot of the press are heading home today and tomorrow as the festival begins that slow march toward the end, always exiting with a whimper and never a bang.
These last couple of days I have screened some interesting films: a noble failure, a superb documentary, a fine war film that is still not the great film we need about Iraq.  I will get to them as I can, but for now, some quick catching up…
(Reviews after the jump.)
"GOOD" (**)
Never have I seen a film about the Holocaust and the rise of the Nazi party with such little emotion. I know in most of these films the Nazis are emotionless killing machines, rarely being portrayed as human beings, but there is at least an inner hate for the Jews that is there, or some sort of belief in what they are doing.
There was a decided lack of passion in this film, leaving me wondering by the end why the director attempted to make the picture at all? Why do it if you are not at least going to attempt to do it well? Maybe he thought it was working, but the film is an uneven, dull and barren work that left me shaking my head.
Viggo Mortensen, usually an actor of uncommon grace and intelligence, seems lost in the film.  Perhaps he too was not clear where the director was going, but he never seems connected to this role.  Mortensen is John Halder, a writer and shy professor of literature — the "good german."  When the Nazis take an interest in his work with a paying job, he takes it, times being what they are, only to be slowly forced into the party and all it stands for.
Watching Mortensen transform from a meek professor into a Nazi brownshirt should be unsettling and disturbing, but it never is. The director cannot draw enough out of the script to give us that slow sense of horror for what Halder is becoming. Part of the blame must fall on the actor, who never seems fully there on screen, perhaps thinking that extreme subtlty was the answer. Sadly it appears he is sleep walking.
There are so many moral questions that could be explored, but aren't.  What turned decent German people into monsters who helped exterminate more than six million Jews, and countless others in the hopes of purifying the nation?  They knew right from wrong; they were in many cases educated people, yet they went along with it.  How did the Nazis seduce them into the reign of terror and blind devotion?  I had hoped to gain some insight in this film, and I think that is where the playwright wanted to go when he wrote the play, but in the hands of filmmaker Vicente Amorim, it is a weak story.
It was refreshing to see the great Jason Isaacs portraying something other than a villain (though he is so good at it) in this film.  As Halder's friend, Isaacs's  Jewish professor who sees the changes in his friend and comes to understand where their friendship is going. Isaacs is the conscience of the film and gives the best performance of the lot.
"ME AND ORSON WELLES" (****)
Remember the name Christian McKay. Sear it into your memory.
This young man becomes a star with his astounding performance as the young genius Orson Welles in Richard Linklater's new film.  "Me and Orson Welles" explores the famed filmmaker's theatrical work in the days before he came to Hollywood to change movies forever with "Citizen Kane." McKay transforms himself into the tyrannical, mysterious Welles, capturing the man's beautiful speaking voice, his cadences, his movement, and most brilliantly, his presence.
When McKay appears on screen for the first time, all eyes go to him and never leave; it is as though Welles has stepped out of a time machine. Like most film critics and film professors I have read everything written about Orson Welles, studied his films, his work, listened to old interviews, read the transcripts of others, and find him altogether fascinating. How could that sort of sheer genius live within one man and burn out so quickly?
Or did he burn out? Did Hollywood just tire of him and cast him aside? Here we see him before "Kane" as he was coming to terms with his enormous talents and using them to great advantage in the New York theater scene.
Fresh-faced "High School Musical" star Zack Efron portrays a young actor who comes to New York to study and is offered a role in Welles's new production of "Julius Caesar," which would of course become legend. He accepts the part and cannot take his eyes off of Sonja (Claire Danes), the pretty young woman who is Welles's girl Friday. She seems to understand him when no one else can or does, and accepts his mood swings and arrogance. His explosions of temper are hurricanes of fury, settled only when things go directly his way.
The manner in which Linklater captures the backstage theater environment is wonderful. Having a strong theatrical background, (I studied to be an actor and ended up directing 42 plays), I felt instantly the authentic atmosphere, from the cramped dressing rooms to audneice-filled front of the house. The fleeting romances, the massaging of those precious egos to get the results needed on stage, and the bitter feuding and back stabbing are all here. It is a miracle sometimes that a play ever gets off the ground considering what it takes to get them there.
McKay is miraculous in the role of Welles.  I have never seen an actor portray this character with such confidence and authenticity. Christian McKay is gone…he IS Welles, capably capturing the laser intellect of the man.  And yet it as though we were meeting the young Welles for the first time.
It is nice to see Zack Efron stretching his acting muscles beyond those wretched Disney musicals that my daughters love so much, and to his credit, he does a pretty good job as the wide-eyed green horn getting what he hopes will be his big break. My God, can you imagine in 40 years, knowing he once stood in the presence of Welles? He walked with a legend, and even if his career never panned out, they'll always have Caesar.
Danes is very good in the role of Sonja, but this is McKay's film throughout.  He is a miracle in the role. And such acting miracles deserve the highest celebration. With this performance I would say he catapults himself into the race for Best Supporting Actor.
"EVERY LITTLE STEP" (****)
Michael Bennett was a genius. In the early 1970s he gathered a group of dancers together and for 12 hours had them discuss their lives and their stories, which he fashioned into a script entitled "A Chorus Line."
That narrative, of course, went on to be one of the most iconic musicals in Broadway history, winning countless Tony Awards and the Drama Desk Award. More so than any other play before it, "A Chorus Line" explored the trials and tribulations of being a professional dancer, the life of being a gypsy, of not knowing when the next job is coming and then the often humiliating experience of auditioning for it.
"Every Little Step" is actually two stories, the first being about the revival of the play years after its initial success, the second concerning Bennett's first great success with the material, which changed the face of American theater forever. Watching the cattle call whittled down to a group of young dancers most aware of the original play is very entertaining and sometimes a little heartbreaking. At least one of the young performers is astonishing while another stunning performer feels the agony of rejection.
The spirit of Bennett seems to be stalking the film, his voice on the reel-to-reel recordings a constant reminder of his genius and visionary status in bringing this story to the stage for the first time. Together he and Oscar winner Marvin Hamlisch made history and would influence the trajectory of the art form.
Bennett was the first to workshop and recreate his work, willing to make changes suggested by what the actors were doing, as a writer and director willing to listen. The film is quite a lesson to struggling actors and actresses who think the life of an actor is all glitz and glamor. 98 percent of actors do not work.  A tough statstic to face.
I wonder, if when he was directing "A Chorus Line," Bennett knew that every little step he took towards completion was taking him into the annals of stage mythology and legend?
"THE LOSS OF A TEARDROP DIAMOND" (**)
I've directed three of Tennessee Williams's greatest works.  I know the man and his legacy well. He was a master of language, and before Woody Allen nailed down writing about and for women, Williams was the best there was in that territory.
His finest female creations — Blanche DuBois (said to be based on him), Amanda Wingfield and her daughter Laura, and Maggie Politt — represent four of the greatest female roles of the 20th Century. The recently discovered original screenplay "The Loss of a Teardrop Diamond" offers some strong roles for women but nothing on the level of his finest achievement.
Bryce Dallas Howard, fast becoming one of the most interesting young actresses in movies, is Fisher, a filthy rich southern belle in love with Jimmy (Chris Evans) who does not reciprocate. He is however somewhat fascinated by the manner in which Fisher lashes back at the southern way of life and what is expected of her. He agrees to be with her for show, but things unwind when an expensive earring goes missing and a veiled accusation of theft is thrown out…perhaps.
Howard masters Williams dialogue beautifully, bringing genuine heat to line readings that is essential when doing Williams.  His poetic writing masked an underlying sexuality in all of his work. I would love to see her play Maggie in "Cat on a Hot Tin Roof" or when she is older tackle Blanche DuBois.
Of lesser note was Mamie Gummer as fisher's "friend." Meryl Streep's little girl is clearly out of her league but also prey to a horribly underwritten role that required her to do very little. A fine actress, Gummer does not yet have the experience to do something with nothing, it appears.  But there is little doubt she will grow as an artist.
In a superb cameo is the great Ellen Burstyn, as a stroke victim left to die in a withered old mansion. Her scenes with Howard are quietly electric, giving the film the charge of electricity it badly needs. In her feisty spirit Howard must see part of herself, similarly trapped as the Burstyn character is, by the society she wishes to escape.
Aside from Howard and Burstyn, the film seemed curiously muted, certainly not one of Williams's great works, leaving no one questioning why this has never before been produced.
"THE HURT LOCKER" (****)
In the 1980s, Kathryn Bigelow directed what might be the finest modern vampire film ever made: "Near Dark."  It was a brilliant and disturbing film about a group of vampires roaming the mid-west, led by Jesse, a former soldier who "fought for the south," both leader and father figure to this bizarre family of blood suckers.
The film was quietly terrifying with a stunning set piece in a redneck bar in which the vampires wreak utter havoc. After that film, Bigelow's career seemed poised for lift-off.  She was set to become one of the most important directors of her generation.  But it did not happen…at least yet.
"Point Break," "Strange Days" and "The Weight of Water," the latter a film festival premiere with Sean Penn and Sarah Polley that never found its audience. But Bigelow is back with "The Hurt Locker" a scalding look at the war in Iraq.
American involvement in Iraq seemed to be a theme for many films here at TIFF last year.  The best of them, "In the Valley of Elah," managed to nab Tommy Lee Jones an Oscar nomination for Best Actor, but precious little else. None of the other films, Brian De Palma's "Redacted" among them, found an audience and even the one with highest profile, "Lions for Lambs," flopped at the box office.
With the early films about Vietnam, it seemed Hollywood was dealing with a war they did not understand.  This would suggest reason for the hopelessly off-base John Wayne film "The Green Berets" in 1968.  Eventually they came back once taboo had fallen away from the subject in the 1970s, and we got one or two masterpieces that dealt with the subject appropriately.
While we are still waiting for that one great film about Iraq, the one that will make sense of this war, Kathryn Bigelow's "The Hurt Locker" is still a powerful and compelling film that deserves attention. Frightening in its realism and attention to detail, the picture explores the lives and everyday assignments of Bravo company, a group of men who have a relatively simple job: find a bomb, defuse the bomb.
There is no room for error…period. Error can mean instant death. Obviously the subject matter alone allows for unspeakable tension throughout the film, but coupled with the men's attitudes about what they are doing we find ourselves in brand new territory here. With just 38 days to go before they go home, some of them are all for taking it easy, while the others are more than willing to put their lives on the line for their country. In a brilliant stroke, this bomb squad becomes a metaphor for the war itself…a lull before a horrific storm that will galvanize everything around them.
Bigelow's direction is perfect, capturing the very essence of what it must be like over there in the intense desert heat and sand and fighting an enemy you really cannot see. The performances of the cast, including those from Guy Pearce, Jeremy Renner and Ralph Fiennes, are excellent, adding a sense of grit and authenticity to the film. There are times, like many of the best films at the festival this year, when we are not sure whether or not we are watching a film or documentary, and with the images of Iraq on constant CNN rotation, the film is all too familiar.