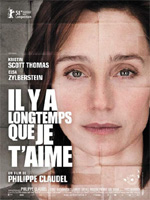 There has been so much hype around Kristin Scott Thomas' apparently devastating performance in Philippe Claudel's "I've Loved You So Long" that a lot of the press I've read tends to sideline the film itself.
Now Jeff Wells has rectified that with a piece in which he declares it the best film of the year so far:
The film itself is a landmark-level achievement. It's remarkably tight, absorbing and affectng every step of the way — a genuinely profound growth journey taken with quiet and gentle steps. Whatever happens on the Oscar nomination front, this film has immediately shot to the top of my list of the year's best films.
Not that he neglects to discuss the film's esteemed British star. Indeed, he thinks she's a shoo-in for an Oscar nod — and possibly more:
She'll definitely land a Best Actress nomination, and she just might win, considering that she achieves so much in ILYSL with very little "acting" plus the fact that she's been around for a couple of decades.
I believe him. I understand some people will begin throwing up their arms and saying things to the effect that there's no way the Academy will give the gold to two French-language performances in a row. But the Academy has shown precious little regard for their previous form in the last few years — and in any case, Scott Thomas is hardly a 'foreign' actress. It's a potentially interesting scenario.
Meanwhile, we still have to find out what the French will pick as their entry for the Foreign Language Film race. Earlier in the year, I thought Palme d'Or winner "The Class" had the edge, but the combination of festival buzz and international star power makes "I've Loved You So Long" a more Academy-friendly choice, in my opinion.
I will see this film for myself in just over a week's time, and I must say I can't wait. That trailer chills me every time I see it.