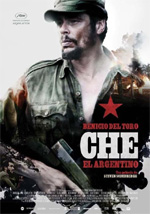 Looking down the list of titles in the newly-revealed lineup for next month's London Film Festival lineup, my initial reaction was one of mild disappointment. Plenty of exciting titles, for sure, but it doesn't quite match last year's feast that included everything from "The Diving Bell and the Butterfly" to "The Assassination of Jesse James" to "Juno" to "4 Months, 3 Weeks, 2 Days."
My second thought, however, was that the lineup reflects more on what a tepid year for film 2008 is shaping up to be, rather than any lack of effort on festival director Sandra Hebron's part. Tellingly, this morning Hebron herself cited critical opinion that, in the wake of a roundly derided Venice festival, "it wasn't a vintage year for cinema."
But enough of the hand-wringing. There's still much to get excited about, including "Che," the two parts of which, interestingly, will be screened both together and apart; Oliver Stone's potentially polarising "W"; "Hunger," featuring a potential dark horse for Best Actor; "Religulous"; "Rachel Getting Married," "Nick and Nora's Infinite Playlist," "Gonzo: The Life and Work of Hunter S. Thompson" and, to my immense delight, "Synecdoche, New York."
Not to mention that, as previously announced, the festival will be bookended by the world premiere of "Frost/Nixon" and Danny Boyle's red-hot Toronto hit "Slumdog Millionaire."
The festival also offers us Brits a chance to catch up on such already-released US titles as "Vicky Cristina Barcelona," "Frozen River" and "American Teen." Meanwhile, the programme is heavy on successes from May's Cannes festival: Palme d'Or winner "The Class," "Waltz With Bashir," "Three Monkeys," "Il Divo," "Of Time and the City,"  "A Christmas Story" and "Lorna's Silence."
Michelle Williams looks to be one of the faces of the festival, with two films appearing here: US indie "Wendy and Lucy," which is prompting awards talk for the actress, and Sharon Maguire's terrorism-themed UK drama "Incendiary." (I can vouch for the quality of her performance in the latter.)
My biggest disappointment? The absence of Darren Aronofsky's breathlessly acclaimed "The Wrestler," which would be a perfect fit for the festival. Fingers crossed it shows up in the 'surprise film' slot, where "No Country for Old Men" made its first UK appearance last year. And this was a longer shot, but a small, irrational part of me was hoping one of the unseen heavyweight prestige titles — "Revolutionary Road," say, or "Milk" — might land here.
Elsewhere, the world cinema selection isn't as strong as it's been in years past, though I'll be looking out for Ethiopia's "Teza," which received a number of accolades at Venice. There's also an interesting sidebar of new French cinema, which includes Agnes Varda's critically lauded autobiographical doc "The Beaches of Agnes."
So plenty to look forward to. It's going to be an entertaining (not to mention hectic) fortnight, and I'll be doing my best to cover as much of it as humanly possible for your benefit. Roll on October.