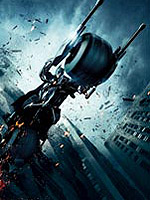 I've been beating a loud drum around these parts for some time.  Backed with inarguable examples set by the Academy in the past and the knowledge that Warner Bros. isn't one of the Oscar-grubbing studios in this town, I've maintained that Christopher Nolan's "The Dark Knight" would disappoint the hordes in January when it fails to nab the big nods so many are expecting in the wake of boffo box office and critical success.
Just yesterday I had a conversation with a publicist involved in some manner.  "So, what do you think of a major Oscar push for 'The Dark Knight,'" I asked.  "What do you think," she responded playfully, not offering much to go on.
Well, here is what Warner Bros. thinks about it, and a clear show of awards-hungry support is all I really needed to jump on board here.
Does a calculated move like this guarantee placement in major categories for the film?  Absolutely not.  But it does prove that the studio — which certainly doesn't need the extra revenue that awards success would bring — is willing to play ball in order to ensure more than simple monetary milestones.
Speaking of which, re-releasing the film into IMAX theaters for an exclusive run in January — "See it again, for the first time!" — could provide the right boost to push the film into truly historic territory.  About 80 million more bucks and this film surpasses "Titanic" after a decade of domestic box office reign from the James Cameron power romance.
Here is Carl DiOrio's mouth-watering lede:
Batman wants an Oscar.

To be precise, Warner Bros. wants a statuette — or 10 — for "The Dark Knight." So the studio plans to re-release its blockbuster Batman sequel in January, the height of Academy Awards voting season.

"It's just a matter of bringing it back as a reminder for people," a studio insider explained.
Read the rest at Reuters.  And more on the chart updates next week.