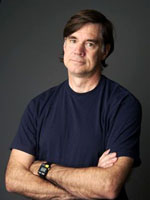 From the press release:
In recognition of his pioneering career which has helped break down the barriers between independent and mainstream film, IFP announced today that director Gus Van Sant will be presented with a Gotham Awards Tribute at the 18th Annual Gotham Awards on Tuesday, December 2nd in New York.
Additionally:
In recognition of Van Sant's fearlessness in using film to explore LGBT issues, IFP announced a new initiative aimed at inspiring the next generation of LGBT filmmakers. IFP is teaming with the The Hetrick-Martin Institute, home of the Harvey Milk High School in New York City. IFP, courtesy of Deloitte Financial Services LLP, is donating 45 video cameras to the school. IFP hopes to work with the producers of NewFest, The New York LGBT Film Festival, to create a series of training and mentoring sessions.
Huge round of congratulatory applause on my end.  More on the awards here.