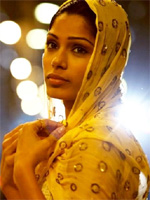 Anybody who's kept even half an eye on film news recently knows by now that, compared to previous years, the consecutive Venice and Toronto festivals have done little to illuminate the Oscar race. (Unless, I suppose, you were one of those predicting major glory for "Miracle at St. Anna.")
The Hollywood Reporter adds their verdict to the pile here, quoting an executive as declaring the fest "an Oscar-less Toronto." There's little new perspective in the article, but it's a handy enough precis. They do think one race has benefited from the festival:
But the festival might have helped clarify at least one category: the best actress race. The beneficiaries have been Anne Hathaway in Jonathan Demme's dysfunctional-family drama "Rachel Getting Married"; Sally Hawkins in "Happy-Go-Lucky," the Mike Leigh film about a chipper young schoolteacher; and, if Searchlight chooses to make an awards push for her, "The Secret Life of Bees" star Dakota Fanning.
Hmmm. It's not as if Hathaway and Hawkins weren't deemed contenders before Toronto. (The Golden Globes may as well drop the other three slots for Best Actress in a Comedy/Musical, right?) And Dakota Fanning? With those reviews? Yeah, right.
In any case, as they acknowledge, Searchlight has other priorities now, having nabbed the two hottest Toronto titles:
The lone film that has emerged as a genuine standout is Darren Aronofsky's "The Wrestler," which went in as a question mark and will leave as a contender in pretty much every major awards category. To a lesser extent, Danny Boyle's "Slumdog Millionaire" also is generating awards talk, though its cast is entirely unknown.
That "to a lesser extent" is interesting, given that a few days ago, some pundits were declaring "Slumdog Millionaire" a slam-dunk Best Picture nominee. I expressed my reservations then, and I wonder now if Searchlight's acquisition of "The Wrestler" (the film of the moment, however you slice it) has stolen its thunder a bit.
I agree with THR that "The Wrestler"'s awards prospects go beyond an increasingly certain-looking Best Actor nod for Mickey Rourke. (Tom O'Neil, meanwhile, believes the critics' groups will "heap kudos" upon the film at the year's end.) If Aronofsky's film outbuzzes "Slumdog," will Searchlight really give an even push to both its indie darlings?
It's an enviable problem to have, and T.R. Stanley, for one, is relieved at this upswing in Searchlight's fortunes:
Having always appreciated Searchlight's consistently good taste — "Napoleon Dynamite," "The Namesake," "Thank You for Smoking," "Waitress," "The Savages" — not to mention their marketing prowess, we're glad to see them with a fourth quarter slate worthy of some Oscar campaigning. Makes it much more complicated and expensive for them, but more interesting for us. It's all about priorities.