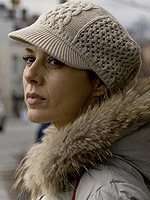 Mickey Rourke is on an unstoppable course toward a Best Actor nomination for his performance in "The Wrestler."  Universal acclaim for the film has yet to hit a speed bump and by and large, folks are on board for this apparent tour de force.
But there are at least two other performances in the film that aren't getting their fair share of a spotlight dominated by Rourke's comeback story.  So I thought I'd go through the reviews and cherry pick the copy that's been dedicated to Marisa Tomei and Evan Rachel Wood, the former perhaps set up for a supporting actress run if the suits at Fox Searchlight decide to spread the campaign love.
I'll update this post as reviews land.  The ladies need their own space!
Stephen Farber, The Hollywood Reporter:
Tomei delivers one of her most arresting performances, again without any trace of vanity. Wood's part is smaller, but she captures the scalding anger of a woman neglected for most of her life.
Todd McCarthy, Variety:
As vibrant — and as naked — as she was in last year's "Before the Devil Knows You're Dead," Tomei is in top, emotionally forthright form as she charts a life passage similar to Ram's, if much less extreme. Once her character stops stonewalling her father and hears him out, Wood provides a fine foil for Rourke in their turbulent scenes together.
John Foote, In Contention:
Tomei is excellent, once again giving a fearless performance in and out of her clothing as she did last year in "Before the Devil Knows You're Dead" and Evan Rachel Wood is fantastic as Rourke's estranged daughter who does not know if she's ready to know her father again.
Peter Sciretta, /Film:
Mickey's performance is worthy of all the Oscar buzz that has been floating around since the Venice premiere. Also, Tomei and Wood's performances should not be discounted.
Erin Cullen, Empire Movies:
In her role as Cassidy, a stripper who develops a relationship with Randy, Marissa Tomei also offers a clear reminder of the caliber of acting that earned her two trips to the Oscars.