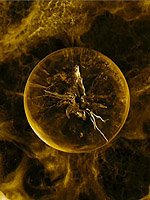 This Ben Child item at The Guardian has me steaming.  The quote, following a recounting of "The Fountain"'s crash and burn at Venice two years ago, that pushed me over the edge:
How would Aronofsky recover? Despite being heralded as one of Hollywood's most hotly-tipped young film-makers, he was a little early in his career to be making such a horrendous, narcissistic error of judgement. But recover he has. Could it be that the epic failure of The Fountain was just the kick in the teeth Aronofsky needed to get him back on track? There's nothing like wasting six years of your life on a project, only to see all the doubters that tried to stop you getting it made proved correct, to persuade you to keep it simple the next time.
Ass.  There are some of us that actually liked the film, bub.  Enough to consider its ambition worth more than the shitstorm that ensued.  There's never anything worse than critics that smell blood, but whatever.