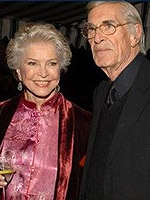 When Chris Cooper accepted his Oscar for Best Supporting Actor in 2003, he pointed out that his co-star Meryl Streep had a great deal to do with his victory.  "We made great jazz together," he said.
"It's easier when you like the person," Martin Landau says, smiling.  "I've had to work with actors I could not stand, women I was not attracted to, and that is where the craft comes in.  But with Ellen, we know each other, we work the same way, we were trained in a similar manner and we both found a connection to the material. It was very easy, very enjoyable coming to work each day."
The chemistry between Burstyn and Landau in the Nik Fackler's "Lovely, Still" is quite remarkable as we watch two lonely old souls looking for a connection, someone to love, to be with, to care for. The story veers off in an entirely different direction than the audience expects, however, which only adds to the stunning impact of both their performances and the picture itself.
Both Burstyn and Landau were trained at the Actor's Studio in New York, and both remain committed to the studio today.  They are active on the Board of Directors, each a former artistic director for the school, Burstyn in New York, Landau in Los Angeles.
Both are method actors, and in fact Landau trained with icon James Dean before the actor's death in 1955. Burstyn's career kicked into high gear in the 1970s with fine performances in "The Last Picture Show" and "The King of Marvin Gardens" before "The Exorcist" made her a household name. She won the Academy Award in 1974 for her ground-breaking work as a widow trying to rebuild her life in "Alice Doesn't Live Here Anymore," directed by Martin Scorsese.
From there she worked both on stage and in films, moving effortlessly between the two.  She won a Tony Award for "Same Time Next Year" and earned an Oscar nod for the screen adaptation. In 2000 she would give one of the greatest performances ever captured on film in "Requiem for a Dream" as an addict who plummets to the depths of hell without realizing what she is doing to herself.
Burstyn smiles when I mention the performance. "Roles like that come along once in a lifetime," she says.  She was nominated for an Oscar for the performance but lost to the "it" girl Julia Roberts and her performance in "Erin Brockovich.
"The toughest time for women in films is when they are in their 50s, too old to play in love stories, not yet old enough to be grannies," she says.  "I have been very lucky these last few years, working steadily in films and television. 'Lovely, Still' came to me through Martin Landau and I liked the script very much but felt I needed to meet the director."
However, Fackler responded rather surprisingly to Burstyn's call.  He told her he couldn't talk long because he was working with his band.  Imagine, telling Ellen Burstyn to make it snappy!  He sent Burstyn some of his short film work and more than impressed the actress, so she decided to meet up with him.
"He looked like a choir boy," she says, "and he had brought with him a painting he had done of me as Mary in the film. 'My God,' I thought, 'This young man is something…a huge talent.' So I agreed to do the film."
Landau had met Fackler earlier, after reading the work and speaking with the young man on the phone.  Nik flew to Los Angeles for a five-hour lunch with the veteran actor who had some ideas for the film.
"He was open to everything," Landau says, "but it was always his film. If there was something he did not like or agree with he said it straight up and I agreed. The environment he gave us was one of incredible freedom, one the crew maybe did not care for, but one that artists adore."
Landau had a bumpier journey on his road to where he is now, years of television work on "Mission: Impossible" and "Space: 1999" must have been frustrating for a stage-trained actor versed in the works of William Shakespeare, Arthur Miller and Tennessee Williams. But he was working, and for an actor, that is everything.
When Francis Ford Coppola cast him in "Tucker," Landau stole the movie from Jeff Bridges.  His career was reborn as major filmmakers started calling. Woody Allen cast him as the lead in "Crimes and Misdemeanors," drawing another awards-caliber performance from the actor.  He finally won that elusive Oscar for his transformation into morphine-addicted Bela Lagosi, long past his glory days as the big screen's Count Dracula, working for peanuts and drug money in "Ed Wood."
"['Lovely, Still'] I liked at once and wanted to meet the kid," he says.  "My agent told me his age…well now I really wanted to meet the kid. We got together and we talked about the script, and I made some suggestions here and there, and suggested he let Ellen Burstyn read it. She was the only actress we discussed for Mary. Once she committed the only other thing we had to worry about was what we were going to do in Omaha, Nebraska when not shooting!"
"It was a wonderfully creative experience," Burstyn says, "one of those happy sets when we were allowed to have an opinion and say what we thought. Nik was encouraging all the time and nurtured that environment on the set."
Burstyn has been riding a crest of popularity these last couple of years due to the success of her great book, "Lessons in Becoming Myself," a superb study of her career in which the actress opened up "and dealt with [her] shame." She remains surprised that so many women come up to her and tell her how much the book meant to her. When I tell her the insight it gave me into women, her face erupts into athat trademark smile and she grabs my hand, "I'm so glad."
When it is time to part company, she asks me to be kind, of course…hardly a task. And with Oscar caliber performances and a timely subject, they should have no trouble getting a sale at the festival. What a treat getting to chat with one of the greatest actresses in the history of the cinema, and one of the grand old men of method acting who has worked with the greats.
And yes, he scolded me: "Dean was really that good."