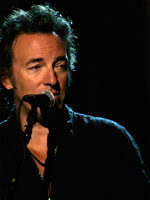 The closing credits track from Darren Aronofsky's "The Wrestler," a modest little ditty cooked up by the Boss himself, Bruce Springsteen, is one of the elements of this buzz-hogging flick that has fans foaming at the mouth in anticipation.
Well, it seems some industrious soul turned on a recorder at a recent screening of the flick.  That's my best guess judging by the rough audio quality and the burst of applause at the beginning…
BUT IT PAINS ME TO SAY that Fox Searchlight has asked us to take the song down.
Sorry.  Not entirely unexpected, of course, but if you had a chance to listen, consider yourself lucky.  Personally, I think it's vintage Boss, a solid number that seems a perfect fit for what this film appears to be.  Someone has also taken a stab at transcribing the lyrics, which are, as expected, sublime.
And by the way, if you didn't notice in today's Oscarweb Round-up, excerpts from Clint Mansell's score for the film have popped up on the composer's MySpace page.  Typical Mansell, ambient, atmospheric, etc.  When is this guy going to get some Oscar love?