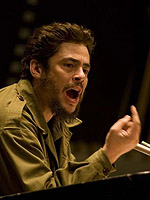 Two masterpieces, one right after the other.  This was the day I had been waiting for.  I caught Steven Soderbergh's "Che" today, all four hours and 20 minutes of it.  It's a glorious achievement from a brilliant mind, one of the few directors who seeks to challenge himself constantly.  "Che" is audacious and bold filmmaking because not everyone will like it or even understand it perhaps.  Soderbergh digs deep into the mind of a brilliant man and allows us a lucky glimpse.
Moments after the film ended, with barely a moment to regroup, I saw Darren Aronofsky's "The Wrestler" — and now I understand what all the fuss is about.  If Mickey Rourke is not nominated for Best Actor for an Academy Award, there really is no justice.  But Hollywood can be quite the unforgiving town…
(Reviews after the jump.)
"CHE" (*****)
Extraordinary, unsettling, demanding, courageous and brilliant, this massive film stands as one of the great achievements in modern cinema.  The first half of the film tells the story of Castro coming to power with Ernesto "Che" Guevera as one of his most trusted commanders and loyal friends.  The tale is intercut with scenes of Che in America and his infamous speech at the United Nations.
Handheld photography give the film a sense of urgency, almost like a documentary; it seems as though Soderbergh as stepped back in time and shot what we really happened. Benicio Del Toro, meanwhile, has the role of several lifetimes here and he knows it, pouring every ounce of his substantial talent into the part, disappearing under the skin of the character to become Che. His eyes are watchful, taking in everything he sees, sizing up everyone he meets within seconds, burning with a fierce determination that marks him as a man who has a cause and will follow it through to the death.
Can we today imagine what it is to be willing to die for a cause we believe in? To live in filth and mud and rain, going for days without food or sleep, knowing that each moment could be our last? To look at a man charging at you with a weapon, aim yours right back and take his life? Could we do that? Che could and did, and he made no apologies for it. By all accounts he was a fair man man, even to his enemies, but his cause was his heart. Del Toro will likely go toe-to-toe with Rourke for the Oscar if…IF…this films gets distribution this year.
The cinematography is superb, the jungle lush and green, but also unforgiving in its relentless power over man. The art direction is perfect and the recreation of the sequences in the United States, filmed in black and white, feels completely authentic. Che was picketed, yelled at, bomb threats came through, yet he still spoke and said exactly what he wanted to say; could we expect anything less of him?
There are strong supporting performances alongside Del Toro in the film, beginning with the actor who portrays a young Fidel Castro in the days before he became an icon, Demián Bichir. Oscar nominee Catalina Sandino Moreno is outstanding as a young revolutionary who Che will eventually marry, living sometimes in disguise (which is incredible to see). Matt Damon and Lou Diamond Phillips show up in solid cameo performances.
Focusing on the fight for Castro through to Che's murder in the 1960s, captured while fighting for the revolutionaries in Bolivia, this long (but never over long) work is a masterpiece and nothing less. I hope they have the guts to release it as is. I hope.
"THE WRESTLER" (*****)
Regular readers are well are of my fascination with the art and craft of acting. Part of that comes from studying it years ago.  I was always interested in how an actor takes a role and makes it there own. On paper, Daniel Plainview is one thing, but in the hands of Daniel Day-Lewis, he is quite another.  Where does that come from? Where does that genius of creativity come from?
Mickey Rourke was once one of the most exciting new actors in modern film.  His work in the 1980s suggested talent on the level of Al Pacino, Jack Nicholson and Robert De Niro. But somewhere his career went wildly off the tracks, including a stint as a professional boxer, before rekindling in Hollywood, where Rourke made more than a few enemies.
Hopefully he will be forgiven with a career-capping performance as a broken down professional wrestler trying to reconnect with his daughter and go past his friendship with a friendly stripper (another fine performance from Marisa Tomei).
This is Rourke's film, from beginning to end, and he stalks the screen like a wounded old bull. Forced to stop wrestling due to poor health, he decides he should get on with another part of his life, at long last. His face ravaged by injuries, his eyes haunted by what might have been, hiding a sort of shame at what his life became, Rourke's performance is one for the ages. I simply did not expect this sort of artistry from him this late in his career. Somehow he was able to reach deep down within himself and create this character, no doubt based on himself more than a little bit, and deliver the greatest performance of his life, maybe of the year.
Tomei is excellent, once again giving a fearless performance in and out of her clothing as she did last year in "Before the Devil Knows You're Dead" and Evan Rachel Wood is fantastic as Rourke's estranged daughter who does not know if she's ready to know her father again. Director Darren Aronofsky, perhaps smarting a bit from those nasty reviews for "The Fountain," tells a grounded, gritty story this time, once again displaying his gifts with actors, drawing out sensational work as he did in "Requiem for a Dream." This might be his best film to date.