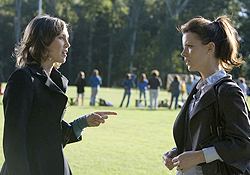 I gave a brief reaction to Rod Lurie's "Nothing But the Truth" a few weeks ago, but I thought now would be a good time to fully explore what the film has to offer.  Debuting tonight at the Toronto International Film Festival, "Truth" holds up on multiple viewings and, given the particulars of the narrative, one might be inclined to recommend a second look.
Lurie has built a modest career efficiently telling stories on the screen.  He hasn't knocked a critically acclaimed success out of the park, nor has he cranked out a considerably popular film that attracted the masses, but it is difficult to argue against even his lesser efforts.  The guy has a confident hand and knows how to put a solid film together.
"Nothing But the Truth" isn't quite the best film in his stable (stellar acting chops place "The Contender" in that position for me), but it is certainly close and will likely find a core of champions that appreciate how Lurie can work so assuredly in difficult terrain, tackling subject matter not easily simplified for the screen in a way that entertains and, above all, actually says something.
Kate Beckinsale stars as Rachel Armstrong, a D.C. columnist who outs CIA agent Erica Van Doren (Vera Farmiga) in a piece that raises questions about a covert operation in retaliation for an attempted presdential assassination.  (The attempt, by the way, provides a gripping opening sequence for the film.)
A shit-storm ensues for both women.  Van Doren can't drop her kids off at school without the media hounding her every move, while Armstrong is ushered by federal agents to meet with a special counsel assigned as prosecuting attorney (played with slick southern panache by Matt Dillon).  The government wants the source of the information, of course, and being a good journalist, Rachel gladly tells them to screw off.  But with no shield laws to protect her decision, a swift court schedule ultimately finds her behind bars.
From here Lurie takes the opportunity to explore the all-too-possible scenario.  Sure, we're aware of a world where journalists can become government targets.  But Judith Miller's 90 days pales in comparison to the year of jail time Rachel endures.  And what's worse, it's not the most fanciful of notions.
Beckinsale is superb as Armstrong.  Following great critical notice for her work in David Gordon Green's "Snow Angels," she's sure to keep turning heads this year in a deglam role of sorts.  Farmiga, meanwhile, is a firecracker when she's on screen, sorely missed when she's not.  In a weak year for supporting actresses, she could stand out.
Alan Alda, meanwhile, is pitch-perfect (as always) as Rachel's defense attorney.  He sticks the landing with a third act speech in front of the Supreme Court Justices that captures the essence of the film without hitting the nail too squarely on the head.  And peripherally, David Schwimmer and Noah Wyle are solid as Rachel's all-too-human husband and the attorney for her newspaper, respectively.
But the power of the film is the level-headed revelation, for those well aware and those perhaps ignorant to it: the government has a scary power over its citizenry.  And the gate-keepers of the journalistic fraternity are not the bullet-proof protectors we'd like them to be.
(A little longer than your usual Short Take, but there we are.)