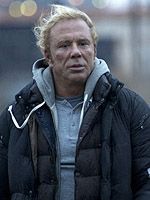 UPDATE 9:24 a.m.: Boy, I expected this to have a short shelf-life, but not an hour or two!  Anyway, check here for the latest and check out the new poll in the sidebar.
EARLIER: This poll might have a short shelf life, since studios are chomping at the bit in Toronto right now and a deal could be made as early as today, but I thought I'd put it out to the readership.
Darren Aronofsky's "The Wrestler" is one of the hottest Toronto tickets this year, but which studio seems most likely to pick it up for domestic distribution?  Keep in mind, a purchase doesn't necessarily mean a 2008 release.  As one industry friend mentioned earlier this week, it's just as likely that a studio with a lead actor heavy could pick up the film and save it for next year's season.
Bit with that in mind, let's look through the possibilities:
Sony Pictures Classics tends to nurture work like this.  One of the most tried and true dependents in the game, the studio doesn't have a major actor horse in the derby and could be just the thing for Mickey Rourke's campaign.
Magnolia Films, meanwhile, is apparently in talks to distribute Steven Soderbergh's "Che," which shares a production company with "The Wrestler" in the form of Wild Bunch.  Maybe.  (The majority of IC readers seem to think a two-film release plan for "Che" could hurt its Oscar chances, by the way, judging from last week's poll.)
What about Miramax Films?  Lots of ladies on the studio's docket, but nothing much for the men.  A Philip Seymour Hoffman here and a Mark Ruffalo there could easily take a backseat to an all-engines-go shove for Rourke.
Focus Features?  "Milk" is going to be the clear focus (no pun intended) for James Schamus and company.  Fox Searchlight?  Peter Price and his team of savy campaigners already picked up an awards heavy in "Slumdog Millionaire" recently.  Are they ready to throw another log on the fire?
I don't expect Paramount Vantage to make any purchases at the fest, and most of the majors seem to be satisfied with their still unseen fall product, so I'd say these three are the best bets.  So let's hear it from the readers…
Which studio will pick up "The Wrestler?"