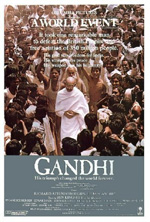 As awards geeks, bitching about the Academy's supposed mistakes is pretty much our favourite sport. The question of who should and shouldn't have won provides endless material for discussion — frequently on these pages.
One of the titles that comes up often in the "shouldn't have won" category is Richard Attenborough's "Gandhi," that well-mounted, well-acted and thoroughly indigestible biopic that managed to beat such more-beloved nominees as "Tootsie" and "E.T. The Extra-Terrestrial." It was an unpopular choice even at the time. After the ceremony, NYT critic Vincent Canby famously wrote: ""E.T." and "Tootsie" are films. "Gandhi" is a laboriously illustrated textbook."
Interestingly, Lord Attenborough, of all people, agrees. In a recent interview with BBC Radio Five, he admits that "E.T." was robbed, being "an infinitely more creative and fundamental piece of cinema" than his own winning film. Attenborough continues:
[Business partner] Diana and I went to see "E.T." in Los Angeles shortly before all the awards and we used language, when we came out, to the extent of saying 'we have no chance – "E.T." should and will walk away with it'.

Without the initial premise of Mahatma Gandhi, the film ("Gandhi") would be nothing. Therefore it's a narrative film but it's a piece of narration rather than a piece of cinema, as such. "E.T." depended absolutely on the concept of cinema and I think that Steven Spielberg, who I'm very fond of, is a genius. I think "E.T." is a quite extraordinary piece of cinema.
I couldn't have said it any better myself. I've never been a fan of Attenborough as a filmmaker ("Shadowlands" excepted), but he sure is a classy guy. There are a lot of undeserving Oscar winners out there who must know they got lucky, but few of them have the guts to come right out and say so.
Anyone else want to come forward? Kevin Costner? Gwyneth Paltrow? John G. Avildsen? Anyone?