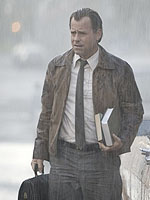 Woke up dog tired this morning, yesterday's marathon of screenings wore me out. Getting old. Do the usual pre-screening intake of food and coffee (a festival staple) before getting ready to head off to the first screening, "Flash of Genius" which I am looking to seeing.
Greg Kinnear convinced me he was the real deal opposite Jack Nicholson in "As Good As It Gets" and even more so as Bob Crane in the dark biopic "Auto Focus." He has got an all American quality about him that I quite enjoy.
(Reviews after the jump.)
"RACHEL GETTING MARRIED" (****)
Anne Hathaway is a revelation in this film, throwing away everything she has done before to delve deep into a troubled young woman who disrupts family constantly, struggling with her inner demons. Nothing Hathaway has done before will prepare you for her work in this film; she is extraordinary, with Jonathan Demme again proving his enormous skill with actors.
I walked into this film looking forward to seeing the great Debra Winger in a film again. I love this woman's work…plain and simple. She was astonishing in her early work in the 1980s: 'Urban Cowboy," "An Officer and a Gentleman" and best of all "Terms of Endearment," and she dominated off-beat work such as "Mike's Murder" and later in 1990 with "The Sheltering Sky."
Winger has always dripped carnality, but in a sincere way, nothing fake about it. She was that real, she was that good. Shirley MacLiane won the Oscar for "Terms of Endearment."  But there is little doubt Winger deserved it; they needed each other in the film. Seeing her in the reverse role this time, as the mother struggling with her daughter's choices, was rather ironic, and often deeply moving.
Kym (Hathaway) returns home for her sister, Rachel's (Rosemarie Dewitt) wedding after nine months of rehab. Her sister sees her as a walking time bomb, something that will explode at the wrong time and divert all attention from her on her big day. She believes that Kym gets the lions share of her parents' attention and deeply resents it, which has driven a large wedge between the pair.
To Hathaway's credit she keeps everyone, including the audience, on edge throughout the film.  We keep waiting for her to go off, and when she does, My God…never did I think she would break free of the silly Princess films that made her famous.  This is one deep actress, ready to go to new heights, ready to be challenged by whatever directors throw her way. She dominates the film, waiting her chance to lash out when pushed, when threatened, and her acerbic tongue is quite often the warning of the bite to come.
Demme has been off directing documentaries the last few years, one of them which I screened here last year, "Jimmy Carter: Man from Plains."  I thought it was among the very best docs I saw last year. It is good to have him back doing what he does best, though. In many ways this film echoes Robert Altman's failed "A Wedding," finding the underlying dysfunction that Altman missed in his picture, perhaps weighed down with a large cast. By focusing on Kym and her family, Demme is permitted to wield his digital camera around the ceremony and party, giving the film an intimacy, but always focused on Kym and the connection she has to everyone around her, the enormous tension she brings to anything just by being present.
I hope Hathaway gets nominated because this is a major piece of acting, a casting off of the old and embracing of the new.  Willing to play a bitch, a screw-up, a nasty young woman who is sadly broken through no fault of her own.
Raw and powerful, this one is a knockout with Hathaway announcing herself as one her generation's finest young actors.
"FLASH OF GENIUS" (***)
This Capra-esque film, based on the true story of inventor Robert Kearns, a college professor who created the intermittent windshield wiper, contains a hugely enjoyable performance from Greg Kinnear. Kearns took his creation to the massive Ford Motor Company, only to be dismissed after working with them for a time and see his invention stolen.
Angered and eventually appalled that they could and would do this to him, he lashes out in anger, slowly driving himself to paranoia and a nervous breakdown which saw him stay two months in a state mental hospital. When released, he finds himself unable to let go of the obsession that they took his idea, did not pay him and worse, in his mind, they did not give him credit for inventing it.
Unable to deal with him any longer his wife Phyllis (Lauren Graham) leaves him, his lawyer discharges his case, leaving the man to take on the case himself with the help of his children over a long period of time: four years.  And there is no Hollywood ending here.  The single thing Kearns wants back is his marriage and that is too far gone.
Capra's best films explored basic human decency, which is what is at work here. Allowing Ford to steal from him? In his mind what sort of message does that give to his children? It is not something he is prepared to live with. Kinnear dominates the film with his thoughtful and thought-provoking performance.  In a lean year of actors he may have a shot at a Best Actor nod, but this is not shaping up to be any sort of lean year.