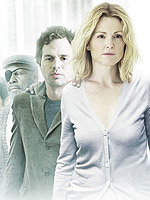 Finally, a great little film…
I love it when a film comes out of nowhere, from an unlikely source, a new talent, old talents re-discovering their gifts, or something that just plains shocks the hell out of the audience with its audacity and brilliance.
That happened to me today with the wonderful, heartbreaking love story "Lovely, Still," boasting Oscar-caliber performances from Ellen Burstyn and Martin Landau. More on that later.
I also finally saw the new cut of "Blindness," as well as "Good," the second Viggo Mortensen starrer to hit the festival this year. At this writing I still have to go see "The Burning Plain" later tonight.
Part of the day was spent chatting it up with Ellen Burstyn (a lovely lady), Martin Landau (great guy) and fresh-faced Nik Fackler.  The interview ran behind but was thoroughly enjoyable for old anti-social me.
Atom Egoyan, Mischa Barton and Scott Speedman made appearances at this event, but I did not get a chance to chat with my fellow Canadians…simply too busy.
(Reviews after the jump.)
"LOVELY, STILL" (*****)
Martin Landau is Robert Malone, a man of 70+ years who lives alone, works at a grocery story and spends a great deal of time thinking he has wasted his life by never marrying and having a family. He talks to his boss a lot, a lonely young man who offers all kinds of advice, some of which Robert listens too, most of it, not so much.
When Robert meets Mary (Ellen Burstyn) their lives begin to change.  They begin dating, and Robert finds true love and happiness for what might be the first time in his life. But there is something off about Mary; she needs medication from a pharmacy and gets very upset when the pharmacist will not fill her prescription at her request. She takes Robert to a Christmas party where everyone looks at him strangely.  He picks up on it, of course, but he's too happy to let it get to him.
After a wonderful Christmas day, Robert awakens to find Mary gone and he flies into a severe panic, calling relatives to find her, frantically searching the streets. When she returns to him, we discover a stunning horror and a hell of a plot twist that I dare not reveal here.
Suffice it to say that 24-year-old director (yep, you read that right) Nik Fackler has done an extraordinary job crafting a screenplay and film that throws the audience off balance. What was a pleasant romance between two older people suddenly becomes a tragedy of intense proportion, and the performances take on whole new dimensions.
Burstyn is luminous as this lonely lady who finds love with a man she has watched for a long time, while Landau matches her step for step.
I interviewed the cast and young director and was stunned, as were Burstyn and Landau, at the age of this young new artist. Fresh-faced from Omaha, Nebraska, Fackler has truly arrived with this haunting new film. He draws exceptional work from his cast, a compliment meant to extend to Adam Scott and Elizabeth Banks for their roles in the film.
A deeply moving film, and I mean that with the greatest of respect. Burstyn and Landau were nothing short of brilliant, and I hope the film finds distribution to get it into the Oscar race  where it belongs.
"BLINDNESS" (****)
Though this film came out of Cannes mercilessly attacked by critics, the filmmakers have brought it to Toronto after a few adjustments.  In this form, it is a superb film, a demanding work that will have a substantial impact on the audiences willing to give it a chance and rise to the challenge of viewing it.
A plague of blindness sweeps an unnamed city, afflicting everyone aside form a doctor's wife (Julianne Moore). There are no names here, which actually serves to give the film an urgency. The afflicted are taken to run-down mental hospital and left there to survive by their wits, food arriving every now and then. The doctor's wife elects to stay with him, keeping her secret throughout most of the film.
The institution becomes divided into wards, and gradually the system breaks down, as the social structure of the place goes all to hell. One of the patients dubs himself King of the Third Ward and they seize control of the food, trading it for valuables and eventually sex. The doctor's wife finally lashes back, surviving in the most basic manner possible, the only way she knows how.
When the patients escape the hospital, they find the outside world has been left in utter chaos. Highways are littered with garbage and vehicles, packs of dogs are eating the bodies left to rot and the blind are scrambling for food. The doctor's wife helps her small company find shelter and food and they settle into a quiet, unsettled existence.
"Thank God we have a leader with vision," one of them says, an obvious bit of zeitgeist commentary. Of course it is evident that one of the common themes is that all the characters are blind to what is directly in front of them, be it love, companionship or resolution. Only when their society is totally broken down, having them reduced to virtual animals, do they recognize what they truly have. Only when they embrace these truths can their world change.
Julianne Moore is brilliant in the lead role, a smart woman who figures out quickly that her secret is a commodity, but something she can use for a greater good. Mark Ruffalo is solid in the role of her husband and Canadian actor Don McKellar (who wrote the script) is fine as an angry crook who suspects Moore can see. Gael García Bernal is all grasping greed and menace as a one-time bartender who succumbs to a thirst for power on the Third Ward, and Maury Chaykin is frightening as a man born blind who finds a way to make it work for him in all the wrong ways.
The film is not an easy one to watch; it is demanding on the audience constantly, but worth the challenge. Hopefully audiences will be up to the task.
Got to get some sleep…will write the Burstyn/Landau interviews tomorrow morning along with two more reviews. Halfway there and loving it…